Top Trends: Favorite Wedding Cocktail Hour Drinks from Mcgrath Clambakes!
One trend we are seeing becoming more and more popular is the cocktail hour before the reception.  It is essentially a preview party for the BIG party!  And what is the most important part about cocktail hour?  The cocktails of course!  We love when the brides choose cocktails that fit into their color scheme or their wedding day theme! We asked our friends at Mcgrath Clambakes what their most popular cocktail hour drinks were and here is what they had to offer. Just looking at these recipe's makes our mouth water…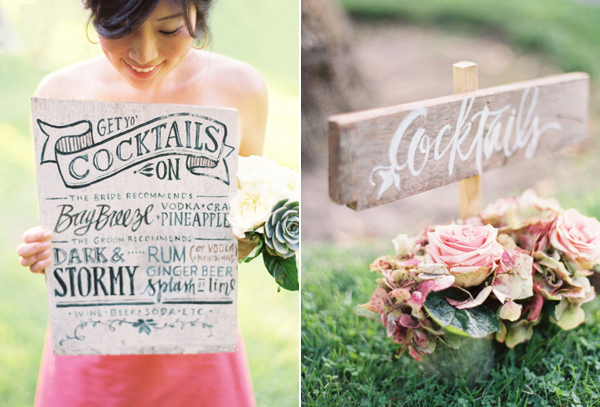 Appletini
Great for the Fall and Summer seasons, the appletini is a mix of vodka and apple Schnapps garnished with a slice of green apple!  We are loving the idea of the Bailey's Caramel Appletini for the Fall,  to make these use Bailey Caramel Irish Creme, an apple flavored vodka,  1 teaspoon of caramel and garnish with an apple slice!
Arnold Palmer
Firefly Iced Tea vodka and lemonade garnished with a lemon wheel and served in a Mason jar.
Dark and Stormys
A popular signature drink with Dark Goslings Rum and Ginger Beer.
FEED THE PONY
Mount Gay Rum, water, grenadine, simple syrup, lime juice, Angostura Bitters, freshly grated nutmeg with a cherry garnish.
GOLDILOCKS
Mount Gay Rum, passion juice, ginger beer and a fresh mint sprig garnish. YUM!
What is your favorite cocktail?? Let us know below!
Photo Credit: Jose Villa