Newport Wedding Hair Q&A: New Leaf Hair Studio
Happy Thursday everyone! Today we have a special treat to get you through the rest of your work week. One of our favorite hair studios, New Leaf Hair Studio in Bristol, RI, hooked us up with a fabulous interview chock full of super helpful wedding day hair tips! So without further ado, here it is. (Hint: You'll want to take notes!)
NWG: What are some of the new trending wedding hair styles for 2012?
NL: Texture! There is a huge rise among brides wanting loose waves, not real 'curls'. There are two popular types of waves–glam, retro waves and bohemian waves. No matter what kind of bridal style–all up, all down, or hair worn half-up, texture is the biggest trend we are seeing in bridal hair for 2012. It is seen on all the celebrities, runways, and bridal magazines. Texture can be styled into everything from the 'top knot' to the classic 'chignon' to give that 'done but undone' feel.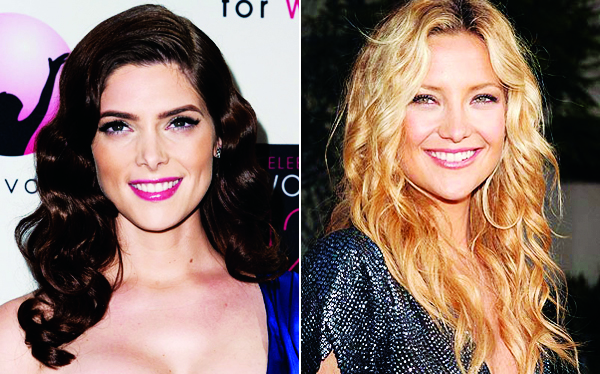 NWG: Are there any styles that were popular in 2011 that you think will fade out for 2012?
NL: Braids for brides…We can thank Jessica Alba and Jennifer Aniston for re-introducing the braid. We still think it will be popular among the wedding party crowd, as long as braids are woven soft and loosely. We warn brides against braids for the simple reason that it might 'date' your look. A typical bride wants to be timeless and classic, so if she chooses a super popular trend, in ten years she might regret the 'it' look of 2011.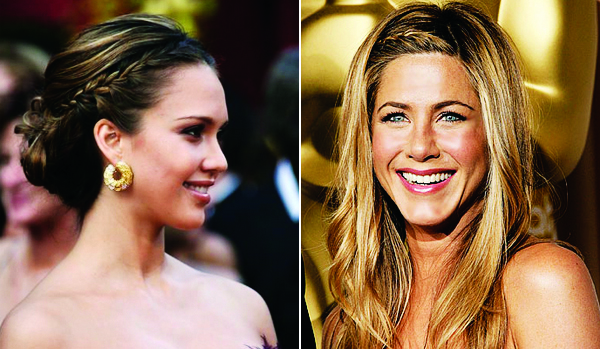 NWG: Do you suggest a hair trial before the wedding and why?
NL: YES! We wish we could shout that from our roof top! Hair and make-up trials are a must for brides for several reasons. One, a trial allows you to become comfortable with your stylist and/or make-up artist, particularly if you are a destination bride (Newport:) who is working with a local salon. You want to make sure your personalities and styles mesh well. Two, a bride might fall in love with a look or feeling of a style she sees in a magazine or online. Having a trial can confirm or rule out that desired look. She might have her heart set on wearing her hair down, only to be reminded that her hair will not hold a wave all day. She might want her hair all up because she never wears it like that and wants to look 'different', only to find out she isn't comfortable with herself. Third, a trial helps to ease the nerves on the wedding day. The one exception to this rule is if you are a destination bride and will not be in town prior to the big day. Do your research online, ask to see photos and ask to speak with the stylist. 
NWG: How far in advance should you get your hair trial and how many trials do you suggest?
NL: We suggest booking your stylist 6-12 months before the wedding, and scheduling a trial 2-6 months in advance. Hair trials are typically scheduled for one hour. Brides should only need one trial if she is pretty sure she knows how she wants to wear her hair, two trials if she is on the fence, i.e. wearing her hair all up, half-up or all down. 
NWG: What do you recommend for brides on a budget – do you recommend they splurge on a professional or try to do it themselves?
NL: Try to hire a professional if you can. Stylists know all the right products, have all the right tools and possess the skills to help your style last all day and night. Your wedding day isn't the time for Aunt Sue, who thinks she is a hairstylist, to practice her skills or for you to have a bad hair day. 
NWG: How does a bride even begin choosing a hairstyle?
NL: Hair type, hair length, and most importantly, the wedding dress will give you a starting point. A flowy grecian-style gown will look silly with a polished top knot and vice versa. Then, research, research, research! The internet is a fantastic database for all things hair. Search favorite celebrities, wedding websites (ahem, Newport Wedding Glam), and photographer's wedding blogs. You might not be able to afford your favorite photographer, but you can certainly stalk their blog for ideas! Your stylist will then help you narrow down your ideas.
NWG: What type of products does New Leaf love and can't live without on the wedding day?
NL: Our top 3 favorites among our wedding team: Bumble and bumble's Classic Hairspray…a perfect aerosol spray that is strong but workable, never sticky, and is virtually scent-free because who wants to smell like hairspray on their big day? Oribe's Dry Texturizing Spray…a revolutionary texture spray that helps create long lasting updos, adds tons of body, gives texture to fine and lifeless locks and is flake-free. All the professionals have it in their arsenal and celebrities swear by it. Bumble and bumble's Brilliantine….this cream gives hair polish and a sort of slept-in, sexy look with separation and extra sheen.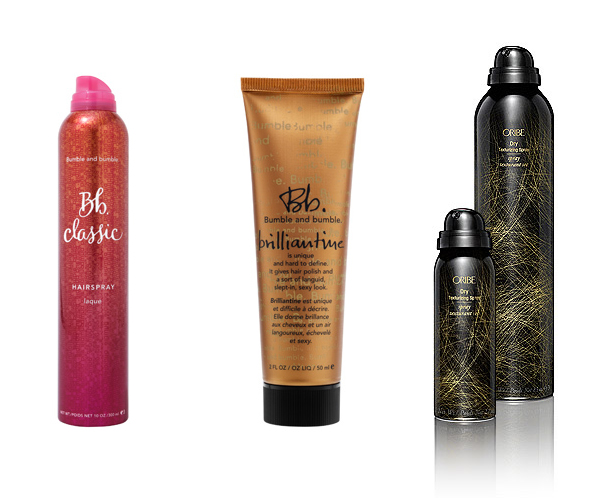 NWG: How do you feel about hair extensions?
NL: We love extensions for all sorts of reasons. They add length so you don't have to spend a year growing out your hair. If you already have the length, they add volume so your style can be supported all day and night. In short, they give regular brides celebrity hair. We like the clip-in extensions for special occasion hair. If you have the money (and time) to invest in longer lasting extensions, find an experienced stylist who specializes in this area.   And please make sure your extensions are human hair and are a perfect MATCH with your real hair. We beg you. Extensions are just a waste of money if not worn correctly and blend seamlessly. If you aren't sure, ask your stylist to help! 
NWG: How do you feel about hair accessories?
NL: We are still crazy for hair accessories for brides! Favorites? Antique heirloom brooches and pins, birdcage veils and  fresh flowers. If you go the fresh flower route, be careful…Choose a flower that doesn't wilt easily, such as an orchid. While a gardenia might smell and look beautiful, it browns fast. If you have your heart set on a certain flower, look into the silk variety. Etsy is always a great place to look! Our favorite accessory for 2012 that is a bit unique but very beautiful is the ribbon headband. They are usually made with beautiful crystal, pearl, or sparkly detail and wrap at the nape of the neck with ribbon. Hair can be worn up or down with the headband incorporated into the style. Veils are always 'in' but steer clear of the British oversized 'fascinator' for your wedding day. While the royal wedding brought it back in vogue, it is a trend, so choose your accessories wisely!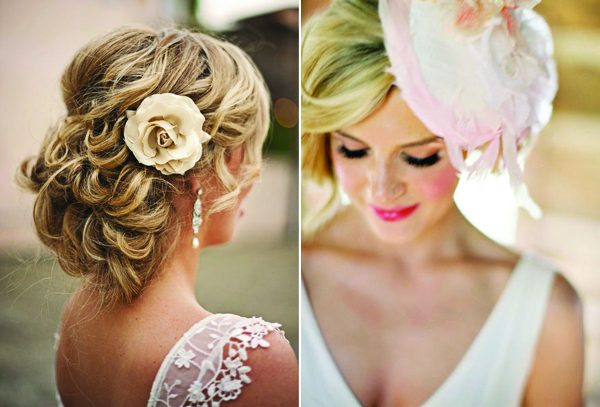 NWG: How can brides make their hair last all day and night?
NL: On the wedding day, brides should wear a button down shirt or zippered sweatshirt to help with undressing. Extensions will help with longevity of the style. Most importantly, products and proper backcombing, or teasing. These two things are the foundations for beautiful, long lasting hair!
NWG: What would you suggest brides have in their purse all day for hair touch ups?
NL: Extra bobby pins, a travel aerosol hairspray, and a pomade or shine product that is designed for styling. And don't be afraid to reapply hairspray. It's key to locking out summer humidity and taming those fly-aways that professional photography will pick up.
NWG: How far in advance should brides get their hair cut and colored before their wedding day?
NL: Having your hair cut and colored one to two weeks before your wedding gives your hair color a chance to oxidize and  allows your hair cut to 'settle in'.
Thank you again New Leaf Hair Studio- we can't believe how helpful all of your expert advice and tips are!  Newport Wedding Glam brides be sure to print this post out and read it like it was your wedding day hair bible!  Comment below, we would love to hear from you, tell us some of your hair tips, tricks and advice!
Photo Credits from Top to Bottom, Left to Right: In Style, The Elite Blogger, 7 Beauty Tips, In Style, Bumble and bumble, Oribe Salon, Jose Villa