Real Engagement: Erica & Jon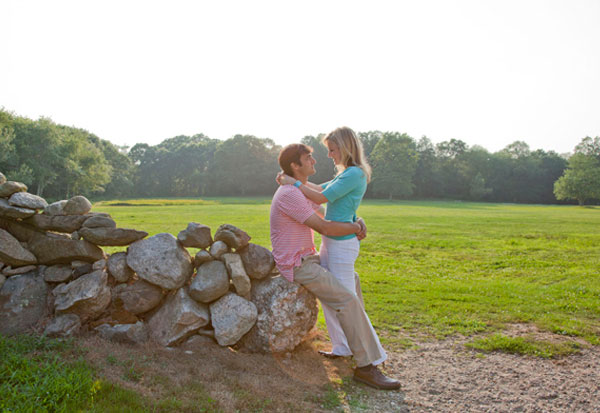 We love this engagement shoot of the lovely, Erica & Jon, who collaborated with their wedding planner Raina Dawn Events and wedding photographer Carrie Rodman Photography to decide on the perfect location and rustic barnyard backdrop for their shoot.  Every photo is just cuter then the next! She had her hair styled by Wavelengths and even in the humid hot summer they both looked so cool and relaxed!  With a couple of outfit changes, including their rival football teams, they very creatively incorporated one of their football shots into their adorable ticket designed Save The Date cards that just went out!  All of their guests keep commenting on how creative and unique they are.  We have been so excited to share this Real Engagement shoot with all of you.  Be sure to read below from the bride about the photo shoot, why they chose this location and why they highly recommend having an engagement photo shoot with your wedding photographer!  Thanks Erica & Jon for sharing your gorgeous images with all of us at Newport Wedding Glam and all the best for your June 2012 celebration at Castle Hill Inn in Newport- we know it is going to be spectacular!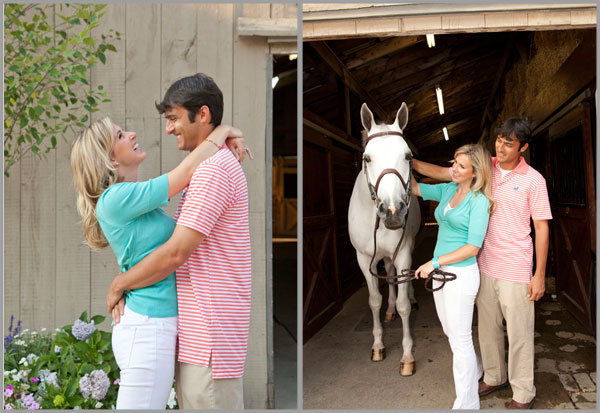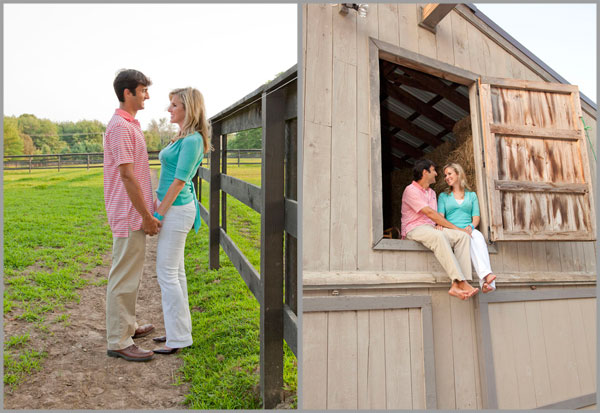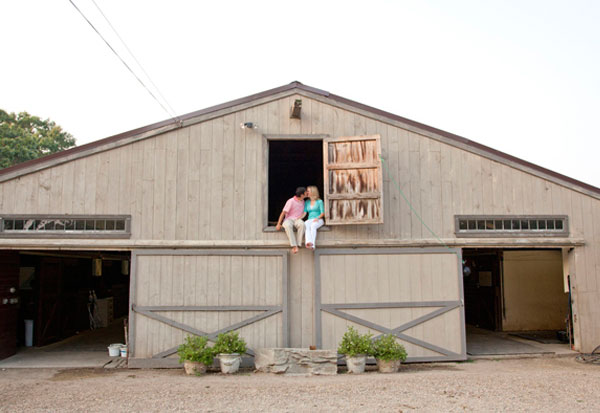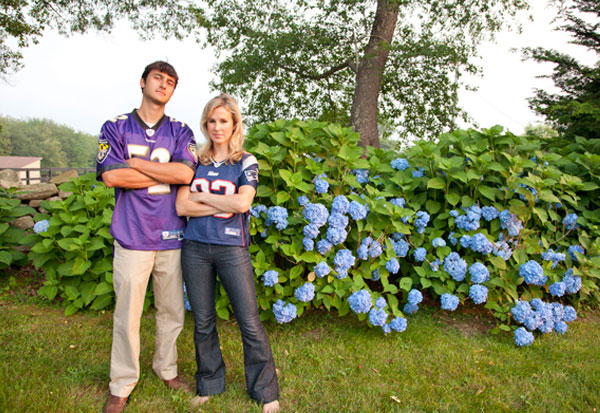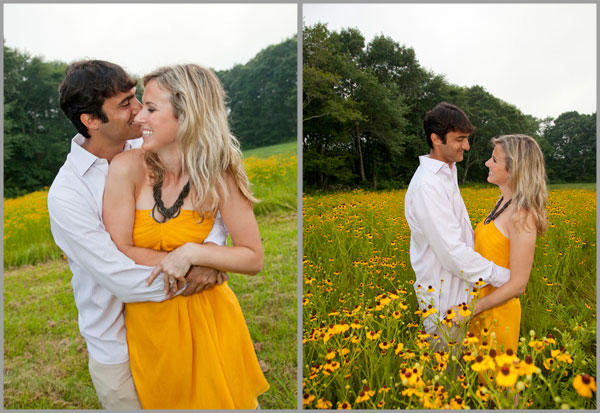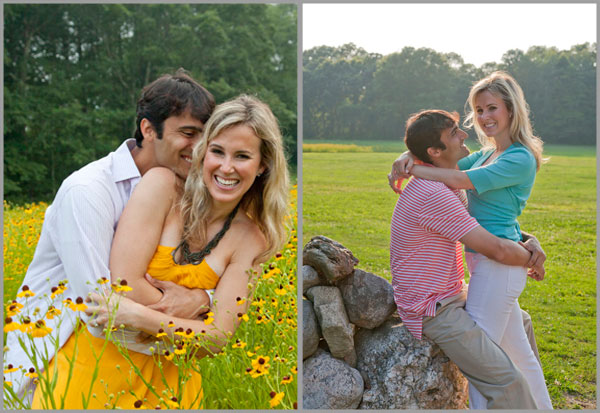 From the bride:
Jon and I are getting married in Newport at Castle Hill in June 2012. We chose the venue because we loved the view of the Pell Bridge and thought the service was excellent. My mother has a house in Newport, so we've spent a good bit of time there with our friends–the town has that great New England feel that we both love. We got engaged in Newport in April so it has that added specialness to us that made choosing the location easy.
We did the engagement shoot at a barn in Wakefield where my mother keeps her horses. I spent most of my childhood and teenage years at horse shows competing so it was nice to bring a barn element in. Jon didn't have the same experience, so we only took a few photos with the horses themselves as to not make the shoot too "horsey." We also thought that since our wedding would be on the water, we'd have plenty of photos with the sea and sailboats, and since we don't often have an opportunity to have a professional photograph us, we should get as many types of shots as possible! Jon and I are also big football fans (although he likes the Ravens and I'm a Patriots girl) so we wanted to incorporate something we loved into the shots.
I would highly recommend having an engagement photo shoot. First, it gives you the opportunity to interact with your photographer and have her get to know your personality so she can better plan shots for the wedding day. Secondly, as I mentioned above, we aren't used to being photographed professionally, and it can feel a bit awkward at first. The end set of our photos is much better than the beginning and I feel that is probably true for many people's wedding photos. Having had this experience, I think we'll be looser on our actual wedding day, and more willing to "go with" what the photographer suggests! Finally, having the photos taken is great not only for the Save the Dates, but also for Christmas presents for our families!
Wedding Planning & Event Design: : Raina Dawn Events, Photography: Carrie Rodman Photography, Hair: Wavelengths Salon