Real Wedding: Anne Marie & Jay
If we had to describe the marriage of our featured "real wedding" couple today, in a word word it would be, "joyful." Given two words we'd add, "colorful." The creative energy that went into Anne Marie and Jay's wedding reminds us why we got into the business of gettin' hitched in the first place. This event, held over Labor Day weekend, had it all and then some: a confident, gorgeous bride (she wore a non-traditional, vibrant, flower-patterned wedding dress made by her mother), an equally assured and fun-loving groom (he entertained the entire party with karaoke), and a spectacular setting (Fort Adams in Newport, RI).
"Fort Adams was our first choice," Anne Marie said. "Jay is from Rhode Island and I wanted a Newport wedding. The views are spectacular and we both wanted to be close to the water. We didn't have a firm date, but when we found out the fort was available on Labor Day Weekend, everything fell into place for us."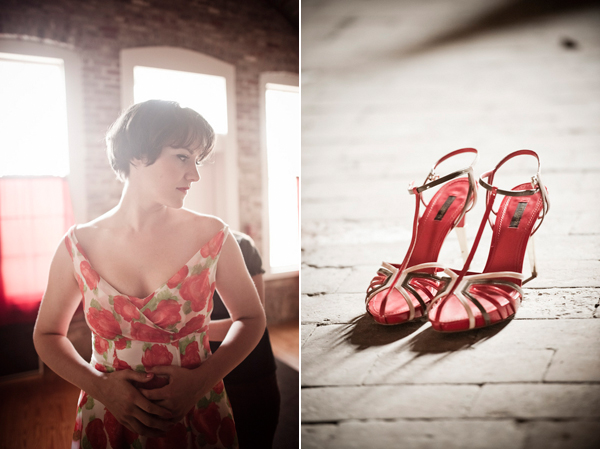 About her dress choice Anne Marie said this:
"I didn't set out to wear a non-traditional dress.  I could buy basically any dress on earth so I didn't see any point in buying a white one.  I set out with the idea that I had a huge dress-buying budget and it just never occurred to me to pick one that I could never wear again. I had my heart set on a vibrant, printed dress, but very quickly became fed up with dress shopping and went back to what had been my first choice all along: a dress by my mother. My mother tailored fancy little girl dresses for me my entire young life and I can still wrangle an evening gown out of her from time to time. I knew of a huge piece of silk with splashy flowers she had that she and I had picked out 15 years ago and had never turned into anything because it was 'too difficult.' This time she couldn't say no."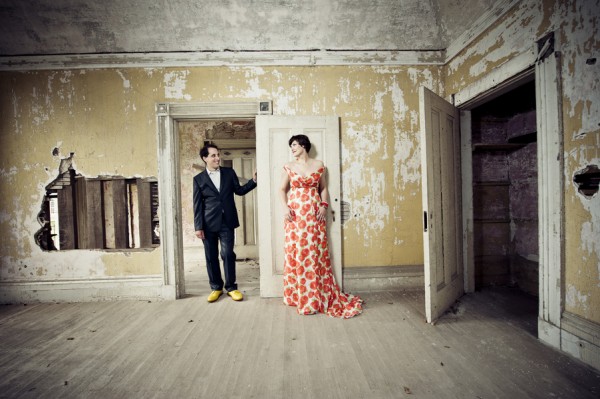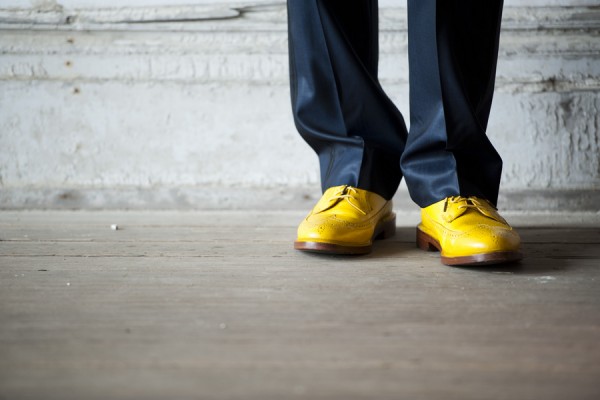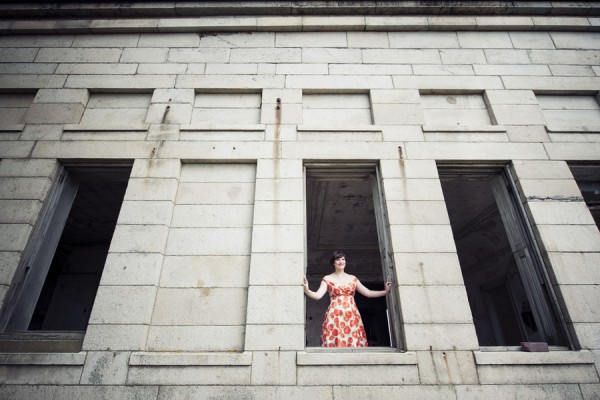 During the cocktail hour, which was held outside on a warm, sunny, breezy day, guests imbibed cocktails and snacked on the raw bar offerings. "The food was incredible and the service was great," said Anne Marie.
There to expertly tell the story of the bride and groom's special day was Viera Photographics. This is what shutterbug Erin from Viera had to say about the fun-loving couple:
"Anne Marie was full of spectacular ideas for her wedding photography. Their wedding was held at Fort Adams in Newport and the theme was garden party formal. Anne Marie described it like regular formal – only with colored pants and funny blazers. True to their uniqueness, Anne Marie and Jay's wedding didn't disappoint. The bride wore a dress made by her mother from a special piece of fabric in place of a traditional white gown. And their bridal party dressed to match in their different patterned dresses and bow ties. Anne Marie and Jay allocated most of their day to an idiosynchratic and thorough portrait session throughout the Fort. Instead of flowers, they planted herbs in pots, and for her bouquet, a handful of rosemary sprigs. And to tie in the east coast flavor, there was clam chowder service, a raw bar complete with oysters and little neck clams, and a folk band."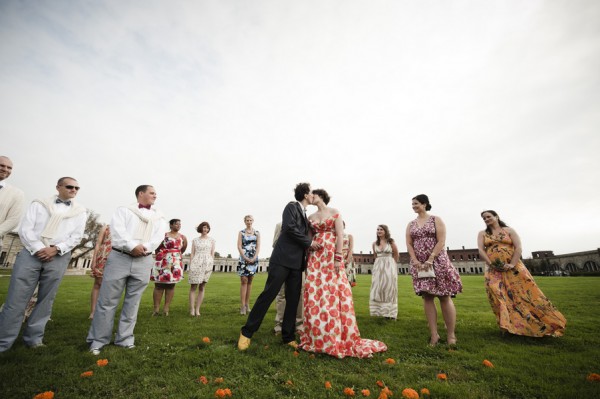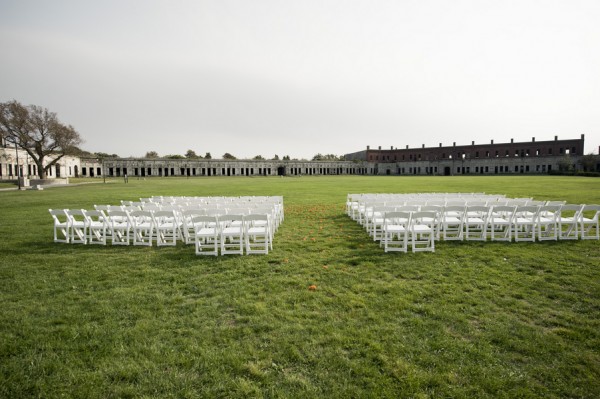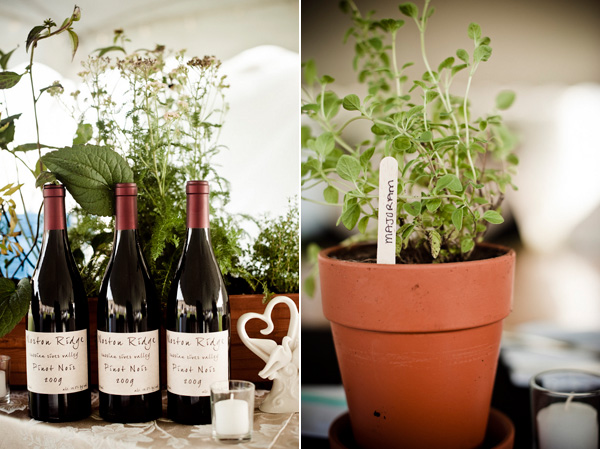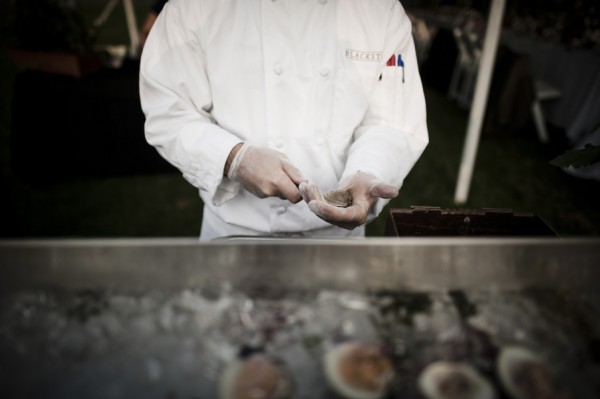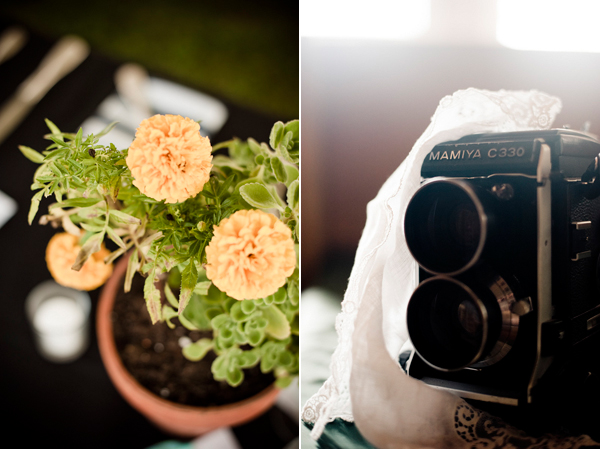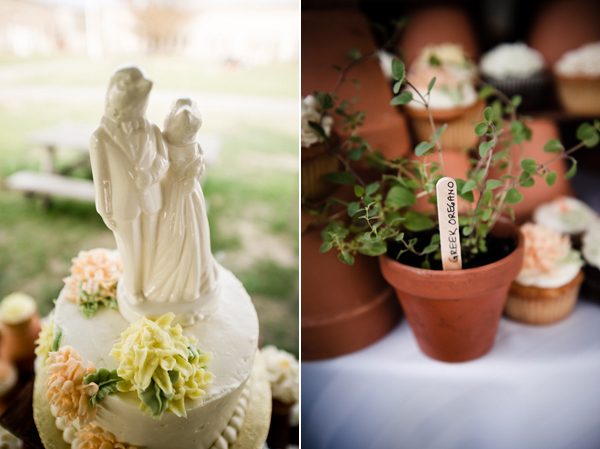 It really was a relaxed, perfect day according to Anne Marie. Prior to saying "I do," the bride took to the beach for a run then joined Jay for a swim. After, her bridesmaids made breakfast at the hotel before everyone focused their energy on getting ready for the main event.
"At the fort everyone was more or less relaxed and having a great time. People were hanging out on the lawn, at the raw bar, having cocktails.  The food was incredible and the service was great. When half of the wedding – bridesmaids, the band, the grandparents, really everyone- was stuck in traffic for maybe an hour, the caterers opened up the bar early and the photographers entertained us. We had a fabulous emcee so there was a good banter."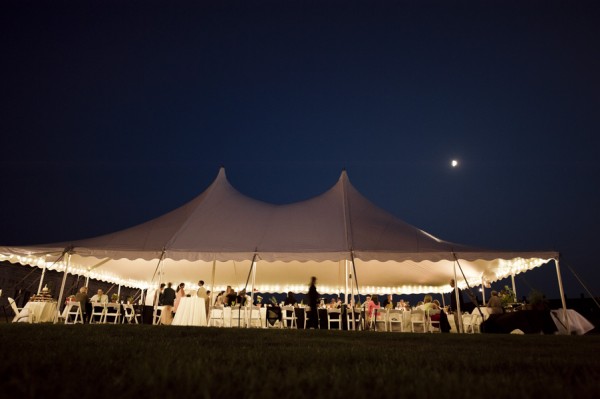 One last detail of the day that we just had to share is this:
"…his (Jay's) brother totally roasted him during his Best Man's speech, the guests were in and out of the photo booth, the cake was phenomenal, and there was fried chicken at the end of the night…Basically I can't imagine having had a better time," said Anne Marie.
We want to thank Anne Marie and Jay for sharing their wedding story with us.
Credits: Photographer: Viera Photographics, Venue: Fort Adams, Caterer: Blackstone Caterers