Real Wedding: Laura & Brendan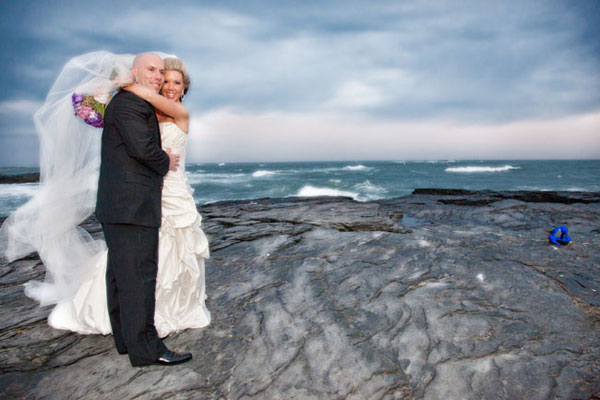 We are so excited to spotlight our first Newport Wedding Glam Real Wedding!  We have be saving this special wedding for the day of our launch to reveal to ur first NWGlam followers.
Laura, our stunning bride, just can not get more glamorous! While Brendan, the dapper groom, happens to also be the brother of the very talented Carrie of Carrie Rodman Photography!  The couple tied the knot at The Kay Chapel with their spectacular reception at OceanCliff  in Newport, RI…seriously, how sexy is the soft purple lighting?  For all you Fall brides, we are swooning over the rich jewel tone colors.  Simply stated… a glamorous wedding on the New England coastline.  Congratulations to the happy couple and thank you for sharing your wedding with all of us!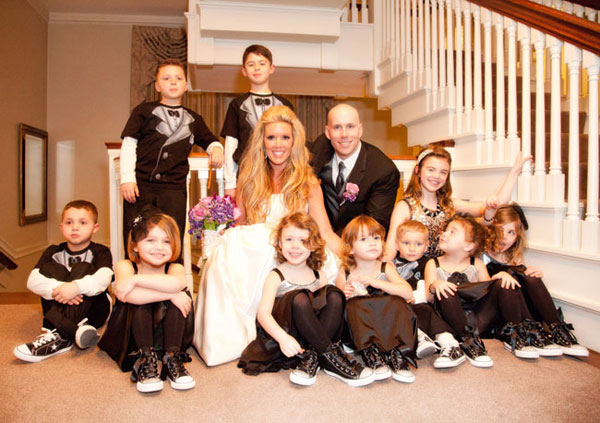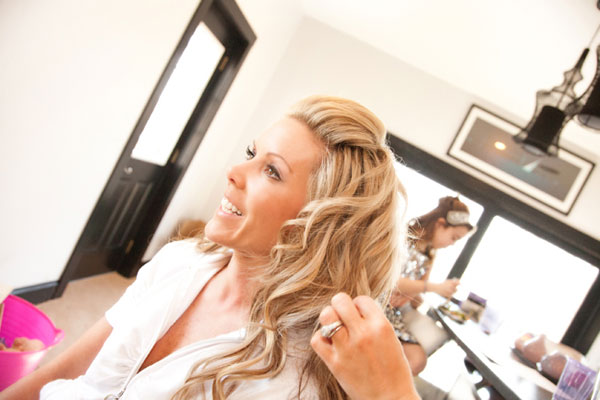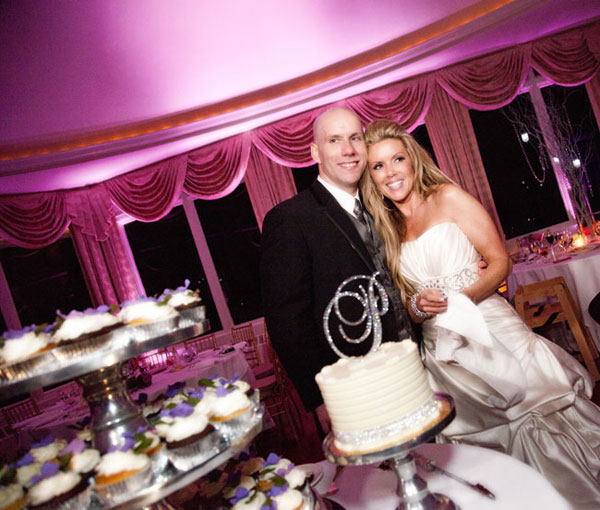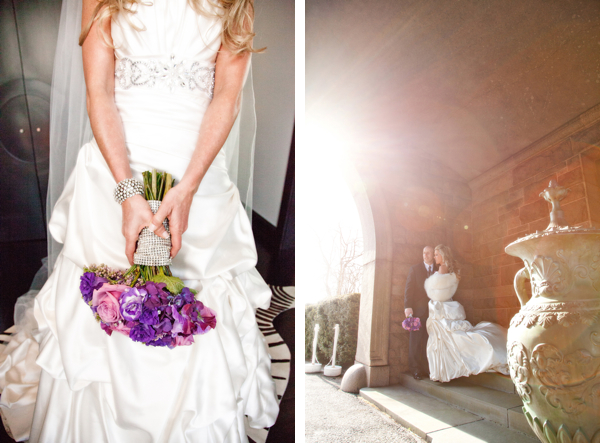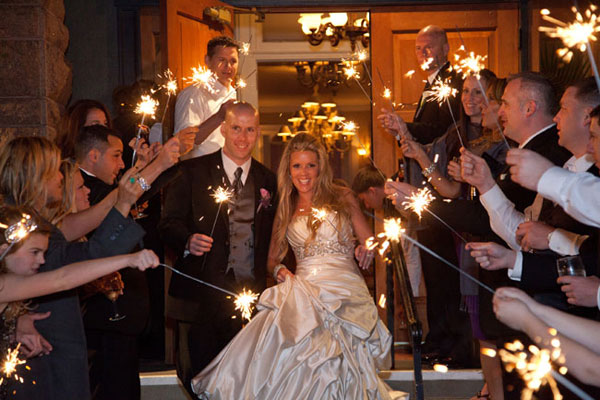 Here's a message from the glowing bride, Laura, about her favorite memories from their wedding day in Newport: "When my husband Brendan & I were planning our wedding we hadn't considered Newport even though we both LOVE the area… hands down it was a perfect choice for our wedding destination! We both love the way we feel when we come over the Newport Bridge and are surrounded by the water. You immediately feel like you're on vacation!
We were married on March 12th, 2011 in the Kay Chapel at the Viking Hotel. I found this location not only breathtaking, but it gave us the spiritual aspect of an actual church wedding. (The chapel used to be the children's chapel for Holy Trinity!) The Viking hotel made my quests so comfortable. It offers valet service (since parking can be a challenge in downtown Newport) and they were able to have a pre-wedding cocktail (to get the celebration started) in the hotel lobby! Linda Furgeson was a blessing to work with at the Viking, and went far beyond what she needed to to help us! Our wedding was on St Patrick's day weekend so the town was SOOOOOOO alive! Esp because of the huge parade that was taking place!  People we stopping & cheering for us! So cute!
I used Sukada Trio for my live string music at the church and for my cocktail hour… all I can say is that when I listened to their demo that they had emailed me, I had chills! They were so professional, reasonably priced and you could tell that they LOVED what they did! If you want live music for your event, I wouldn't hesitate not listening to them!
The moment I walked into OceanCliff I knew INSTANTLY that was where I wanted the reception to be. The smell of the fresh fireplace that was lit in one of the cocktail rooms made me feel so warm & welcome. When I walked through the french doors, into the gorgeous reception room that over looked the ocean & onto the stunning dance floor, I could picture dancing with my husband on our wedding day in my mind & it brought tears to my eyes. I had to apologize to Galen Cobb (who by the way is a peach to work with at OceanCliff!) for my emotional reaction. I guess it's kind of like finding the perfect wedding dress or the love of your life… you just know! That's how I felt about OceanCliff & I was not disappointed by anything on our wedding day! I really can't complain about one thing! Everything I dreamed of, or asked for they made a reality! As the bride & groom you really don't get to sit & eat but when we asked for a "bite" HOURS later, our food was so fresh & delicious that it made my jaw drop! I have to say my guests raved about two things: #1 my ice luge from "Brilliant Ice" (OceanCliff made us a signature drink!!!)  and #2 the fact that OceanCliff sent out a "Slider & French Fry Bar" around 11pm!!! Very cool touch! They do not miss a beat there!
Galen from OceanCliff invited me up to a tasting even before my wedding & I was lucky enough to meet Jim from Confections Bakery in Fall River Mass… OMG his cake was the best thing I have ever put in my mouth! My daughter who is 12 and NEVER eats cakes or cookies went back for seconds because his deserts are so delicious! Jim was also thoughtful enough to have 2 cupcakes sent up to our suite so that after our wedding we would be able to enjoy our wedding cake again! It really was a great surprise for us to walk through the door and see those cupcakes waiting for us! (Along with the bottle of champagne that my parents treated us to!)
I had a HARD time choosing a florist… they ALL want to do what they want to do, and have a hard time listening to the couple. Plus when you give them a budget they start pouting like small children… so with a little investigating, I found Pam from Blooming Blossoms in Providence RI. My phone call alone with her was a breath of fresh air!! And when my husband and I drove up to meet with her at her adorable little store, I was blown away!  She is a very hard working, classy business woman, who will bring whatever level of "glam" you are looking for to life! I couldn't have been happier working with her…her creations are sensational!
I'm blessed to have such a fashionable and talented sister in-law who had a difficult time releasing her artistic eye to her talented staff for our wedding (because she was my matron on honor as well)!!! Carrie Rodman did an unbelievable job on our engagement photo shoot at the NY JETS training facility and did her best to coach her team in achieving the "perfect" shot of us while smiling for the camera herself! Her gorgeous home was the the back drop for me before the ceremony… I decided to wear blue shoes w/ peacock feathers on them for my something blue and Carrie ordered a sensational centerpiece of Peacock feathers for (in her own words) a "fierce" photo of my outrageous heels. It was the most unique "prop" for a photo of shoes I had ever seen! Carrie is certainly high energy and will bring out the best in a couple with her warm and fun loving personality.
Carrie had also introduced me to Studioseven7 films which had filmed our day… everyone who has seen an snippet of his work was moved to tears & chills… I LOVED how they made our video in parts look like a professional music video with our wedding song! If you want to see what I am talking about go on studioseven7films.com  and look up Laura & Brendan, then grab a tissue. He captured every moment perfectly! Every time I see it I smile."
We couldn't resist sharing these shots from their engagement shoot Laura mentioned.  Since Brendan is the Director of Pro Personnel for the New York Jets these pics and the Jets personal touches throughout the wedding couldn't be more perfect!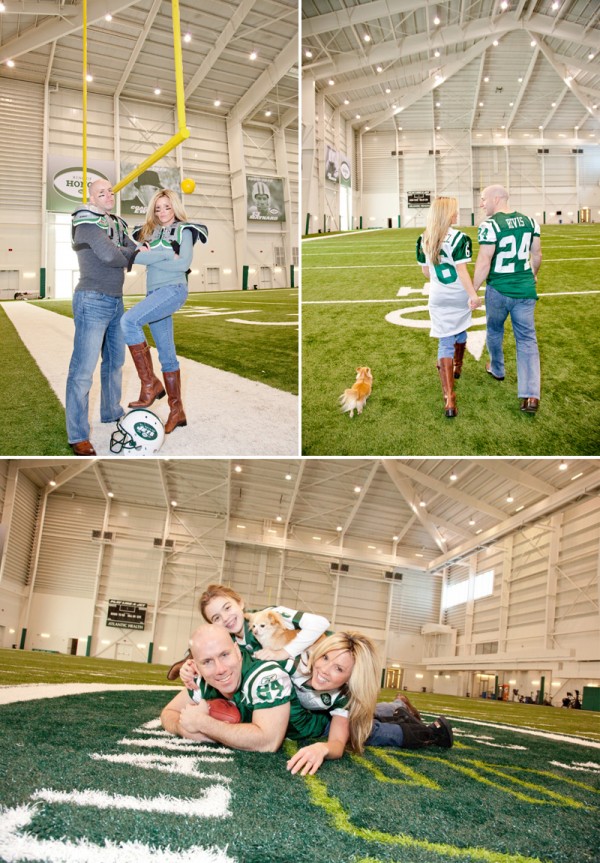 Be sure to leave us comments below & also if you are a bride or a vendor wanting to submit a wedding to our Editors CLICK HERE we would LOVE your submissions to be featured on NWGlam!
Credits: Photography: Carrie Rodman Photography, Ceremony Venue: Viking Hotel, Reception Venue: OceanCliff, Live Music: Sukada Trio, Desserts: Confections Bakery, Florist: Blooming Blossoms, Videographer: Studio Seven7 Films, Officiant: Father George Chaplin from The Church of the Holy Cross, Make-up: Monica Clarke, Hair: Melissa Albro, DJ: Sound Sensation Entertainment, Dress: Bijou Bridals