Real Wedding: Laura & Martin's Newport Wedding at Castle Hill Inn!
We are so excited for today's Real Wedding post of Laura & Martin's Wedding at Castle Hill Inn!  You got a peek at it in the current issue of Bliss Celebrations and today you get to feast your eyes on the stunning bride & groom and all the endless and perfect details of this Newport wedding.   Planned by Raina Dawn Events and over the top decadent floral designs by Stoneblossom, we simply can't get enough of the beauty and charm of Laura & Martin's wedding.  From the sugar flower cake designed by  Confectionery Designs, to all of the rentals by Rentals Unlimited, and did we mention details, details, details… pashminas, candy bar, photo booth, gift bags, flip flop basket, sunbrellas,  favors, coasters, napkins, stir sticks, light up wands, guest book, lounge furniture, framed engagement pics, and it doesn't stop there.  And did we mention an amazingly gorgeous couple who were so in love and simply over the moon to be surrounded by all their amazing family and friends!  So feast your eyes on all of the gorgeous pictures from the invitation suite by  East Six, hand calligraphy by Tara Jones Calligraphy, signs custom designed by Haute Papier, lighting and draping by none other than Tony Ormonde Productions, wedding film by Buzz Media Company that we will be featuring soon, rocking out to Beantown, guests staying at The Pearls, The Pelham, Hotel Viking, Marriott, stunning hair by La La Luxe Salon, and much, much more! Enjoy hearing all about the wedding from the bride below and stay tuned for more from their amazing Newport wedding weekend!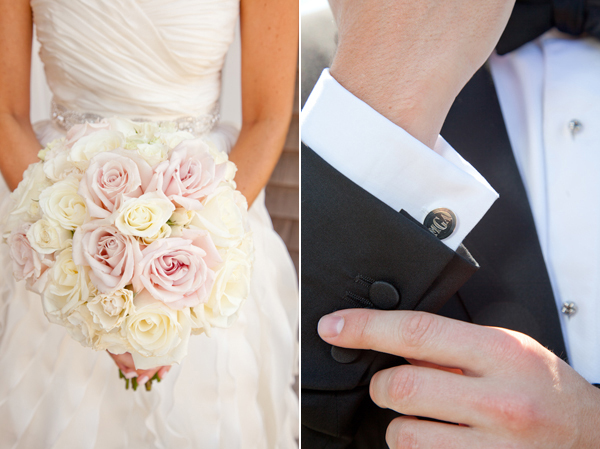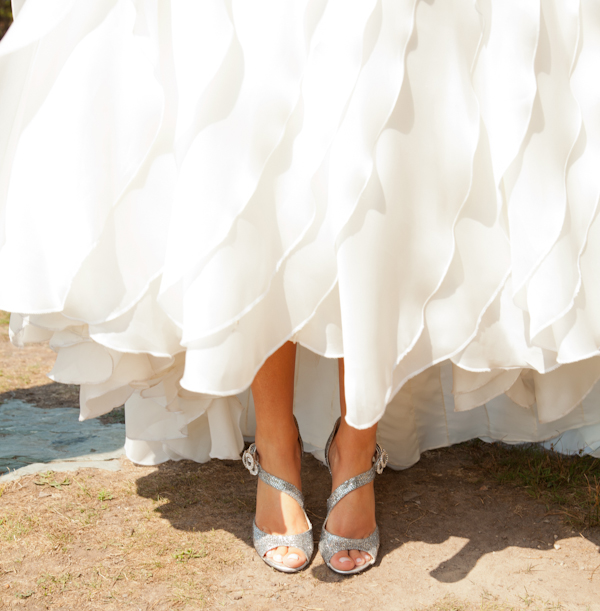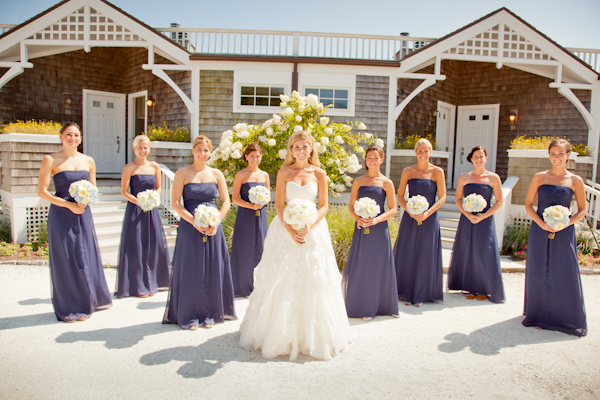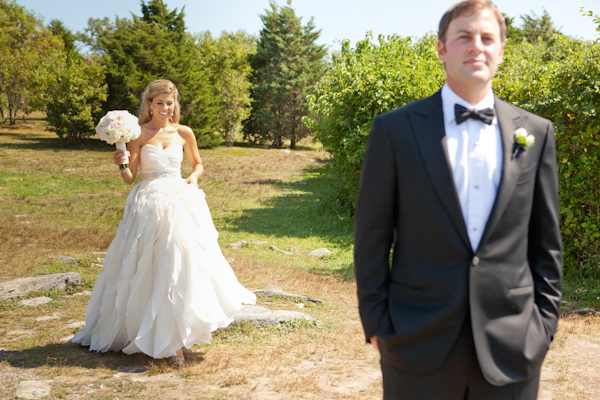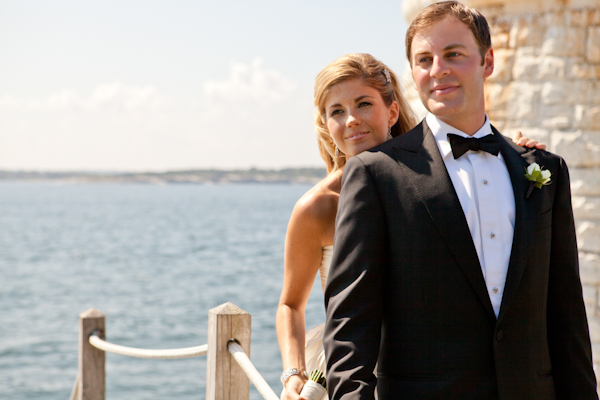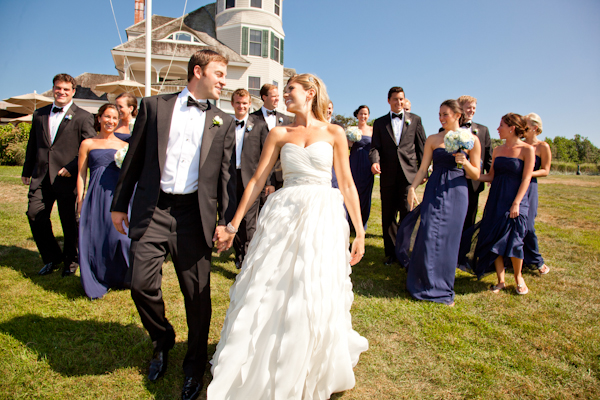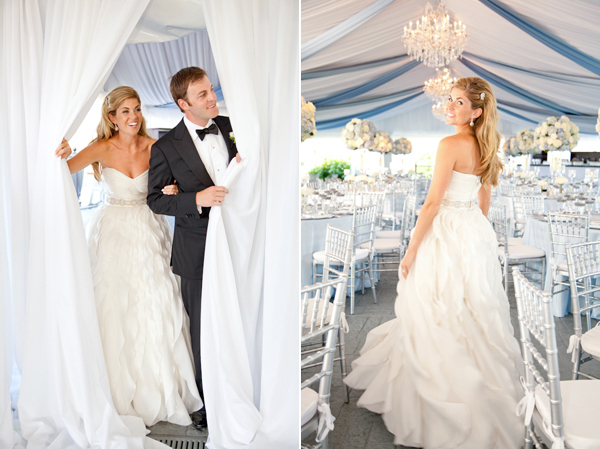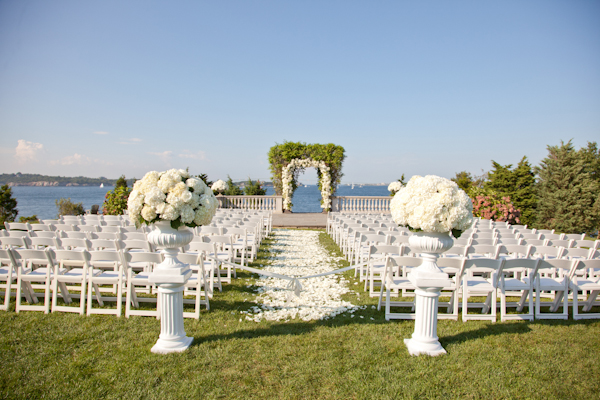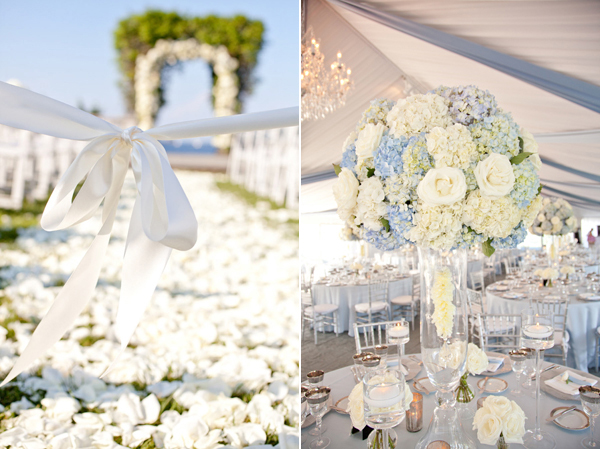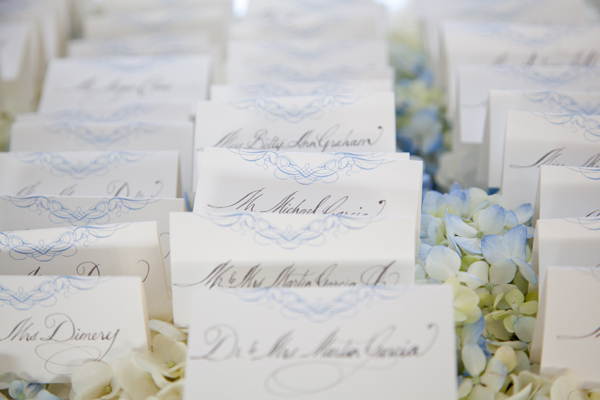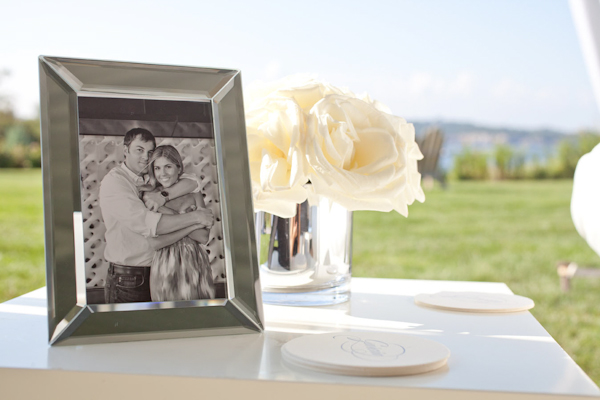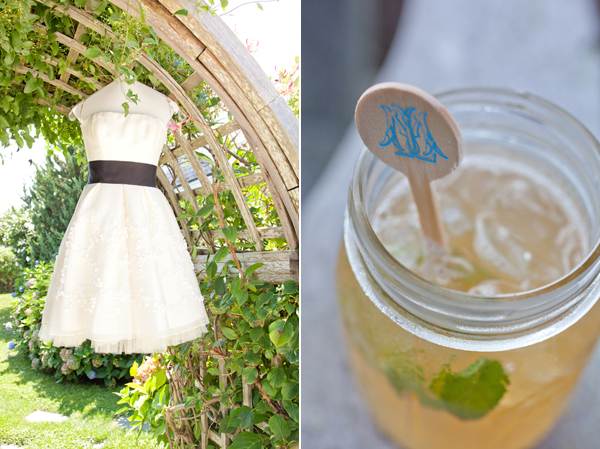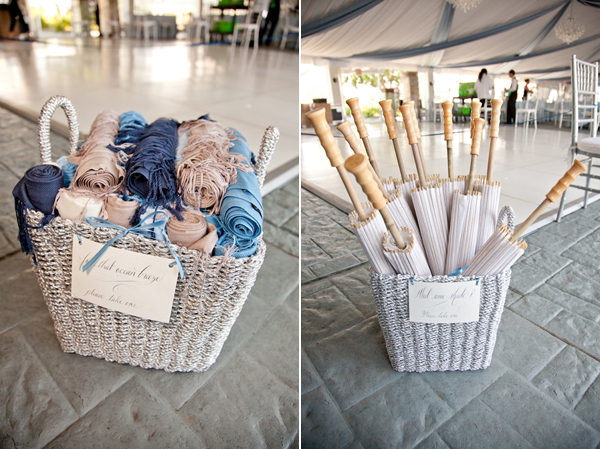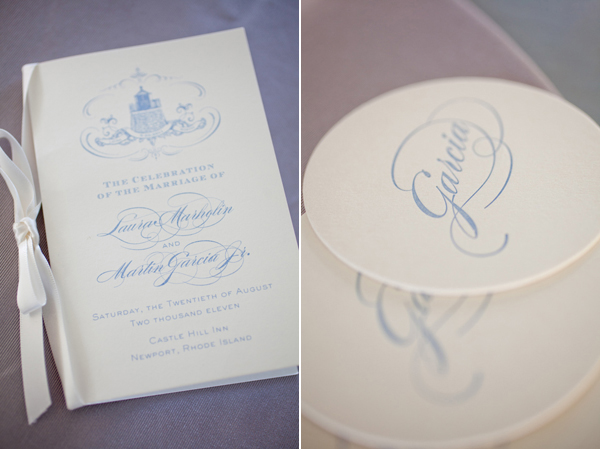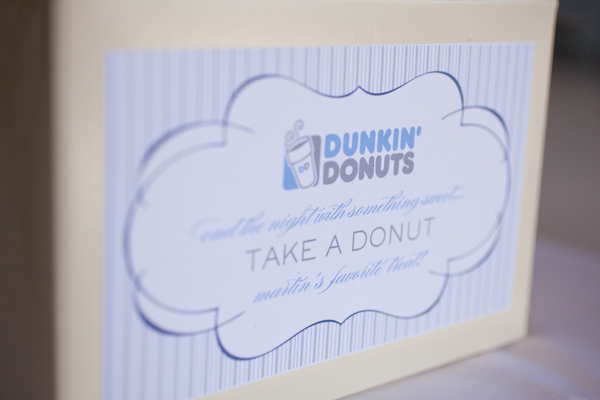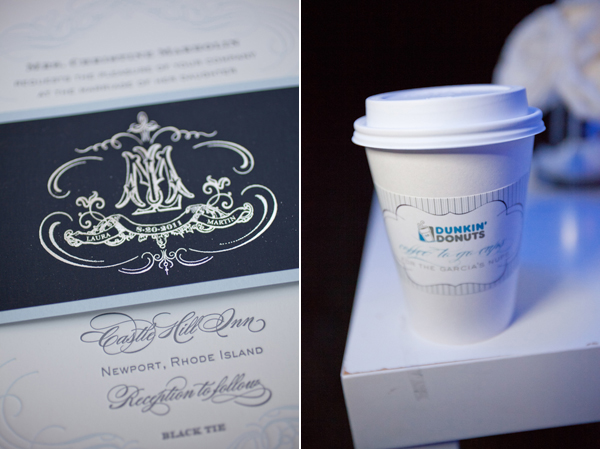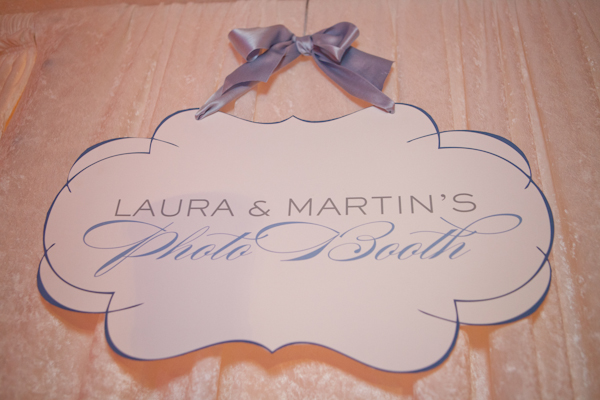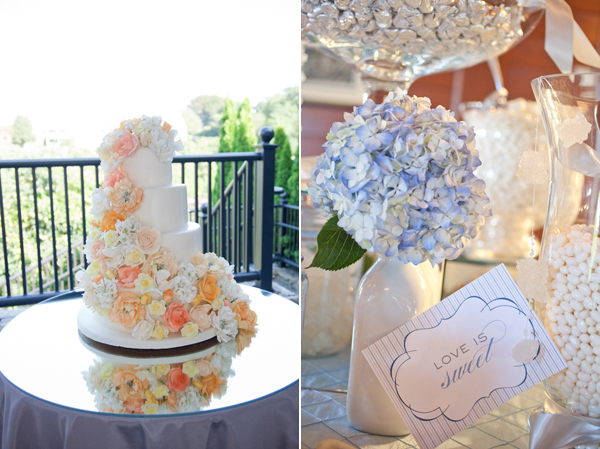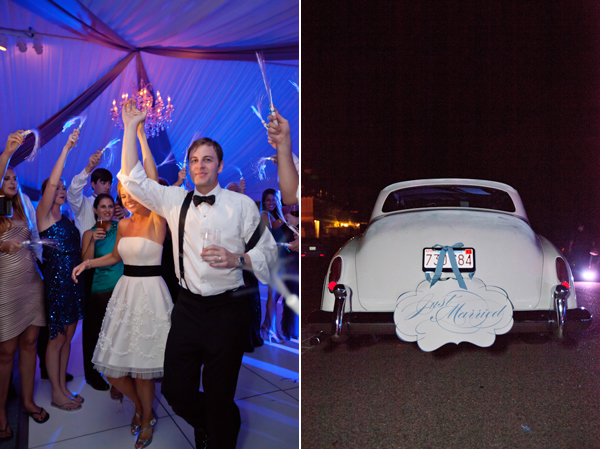 And now a quick Q&A with the bride!
NWG: How did you decide on Castle HIll Inn as your wedding venue?
Laura: I always knew that I wanted to get married in Newport – I may or may not have perused wedding venues online before being engaged.  Martin had heard me dropping some not so subtle hints about Castle Hill, but complaining about how Newport felt impersonal for a wedding since we had never been there together. He took it upon himself to fix this problem by proposing to me on the cliff by the lighthouse at Castle Hill and surprising me with a night there. Needless to say, I had a venue by the next morning!
NWG: What are some of your most fondest memories of your wedding day?
Laura: My fondest memory of my wedding day is seeing Martin for the first time at the lighthouse where we got engaged. It was also a magical feeling to see our tent come to life that I had worked so hard on and put so much love and attention into – it was like seeing a dream realized! Aside from that, my favorite memory was sitting next to Martin during dinner and just looking around the room filled with so much love and taking it in – realizing this was our wedding day! Magic!
NWG: How did you find your event planner and how did they help in planning & executing your wedding & weekend?
Laura: Having Newport in mind for my wedding, I caught an episode of Platinum Weddings where Raina was the planner! After watching the episode, I quickly googled her and realized we had a bizarre amount of personal similarities and instantly felt a connection. After meeting her and planning the wedding together, I ended up gaining a friend along with a wedding planner! an unexpected gift from the wedding planning process.
NWG: We heard you had an endless amount of gorgeous details at your wedding we are going to be featuring, did you do them all yourself, where did you get the ideas and how did you execute them?
Laura: Planning every little detail of the wedding, from pashminas, flip flops, parasols, a candy bar with special labels and sayings, gift bags and what feels like countless more – was my favorite part of the wedding planning. I truly believe that love is in the details, and that a wedding with personalized details has a sense of care and warmth to it. These craft projects were truly a labor of love! I found most of my ideas on blogs and came up with many of them myself and with Raina. Most of them I did on my own through craft shops or by enlisting the help of vendors on etsy.com.
NWG: The florals and decor were absolutely stunning, tell us about your process of choosing your colors, florals, details, overall decor, etc.?
Laura: I had a vision in my head from the very beginning and simple felt I needed to find someone to understand it and execute it. I first set out to find as many images as I possibly could that would help visually convey my concept. In meeting with various florists, I knew instantly that Stoneblossoms simply got it. Seeing my mock-up table arrangements was one of the most exciting moments of the planning as it was a glimpse of my vision coming to life for the first time (I was literally jumping up and down with excitement in the Stoneblossom showroom!)
NWG: Your wedding cake was stunning with all the gorgeous sugar flowers, tell us about how you decided on your wedding cake and your experience?
Laura: I had originally wanted a more simple wedding cake, until Raina showed me an inspiration photo that struck my eye and I couldn't seem to get it out of my head! Confectionery Designs brought the photo to life more beautifully than I could have dreamed.
NWG: What did you do for your escort card table?
Laura: Raina and Stoneblossom worked with me to come up with a new, creative alternative to a traditional escort card table with a flower arrangement in the middle. We designed a container and laid a bed of hydrangeas down so that the cards were tucked into the bed of flowers. I loved the final result!
NWG: Tell us about your wedding dress shopping and your accessories?
Laura: I had such a fabulous experience at Mark Ingram Bridal Salon with my consultant Indira. It was the first place that I looked, and I knew i had found "the one" after just a few dresses. Although I continued onto other salons just to enjoy the experience of trying on such beautiful dresses, I came back to purchase my Monique Lhullier dress from Mark Ingram. My shoes were Jimmy Choo and I did sneak in a second party dress from Vera Wang!
NWG: We see you had adorable nautical gift bags, what dis you include in them and how received them?
Laura: The gift bags were filled with tons of food and goodies that I put into hand stamped (by me) muslin bags – I had custom stamps made at a shop in New York. I also had candles made with our LM logo on them. My favorite detail in the bag was vintage Newport postcards – I addressed them to our home address with a note saying "send a note to the bride and groom to read when they get home from their honeymoon" – it was so fun to come home from our honeymoon to a mailbox full of post cards about people's experiences at our wedding.
NWG: Did you do anything special for your bridesmaids?
Laura: I had robes monogrammed with my bridesmaids initials for them to wear when we got ready and bought them special flip flops to keep their feet from hurting during photos. For gifts, I bought them matching little diamond necklaces.
NWG: How did you decide on what rentals to get from Rentals Unlimited and how d you feel that enhanced your event?
Laura: I felt that the lounge rentals really gave the outside a sense of relaxed elegance and a separate space for cocktail hour that was unique to the main event.
NWG: Did you provide transportation for guests and did you do any type of exit?
Laura: We provided trolleys for transportation for the guests. For our exit, we rented a vintage rolls royce with a "just married" sign on the back. i wanted to do sparklers for our exit, but unfortunately Newport fire code prevented that. Instead, Raina came up with the genius idea of glow wands! I tied ribbon around them to give them a little flair and they worked perfectly!!
NWG: What are your favorite memories and moments of your wedding day?
Laura: There really are too many to count, but the whole day was so filled with warmth and love – just soaking up the feeling of being surrounded by all of my loved ones, sharing the special place of newport with them, and also watching them see Martin and me embark on our life together!
Credits: Event Planner: Raina Dawn Events, Photographer: Carrie Rodman Wedding, Florist: Stoneblossom, Cake: Confectionery Designs, Venue: Castle Hill Inn, Transportation: Viking Tours, Rockstar Limo, Invitaitons:  East Six, Calligrpahy: Tara Jones Calligraphy, Makeup: Maggie D'Angelo Makeup, Haute Papier, Lighting: Tony Ormonde Productions, Rentals: Rentals Unlimited, Videographer: Buzz Media Company, Music: Beantown, Accommodations: The Pearls, The Pelham, Hotel Viking, Marriott, Hair: La La Luxe Salon, Officiant: Barnum McCarty, Photo Booth: Carrie Rodman Wedding