Real Wedding: Melissa & John
Happy Monday! Here is an amazing wedding that has a true nautical New England feel with Great Gatsby touches.  The ceremony and reception took place at Wychmere Beach Club and was captured by Person + Killian.  We can thank Greenlion for all the amazing floral details.  Enjoy!
Here is a word from Kim from Greenlion: "We made the boutonnieres from boat line into nautical knots, the Groom sported a bowline knot with a sprig of blue thistle (as a tribute to his Scottish heritage). The best man a bowline knot alone, the groomsman and fathers, figure 8 knots. It looked so crisp and stunning on the black tuxes.  We used cobalt blue vessels and peacock feathers (the brides wonderful vision) and accented those with white florals. The bridesmaids carried white pomander balls adorned with boat-line roping holders. It was a beautiful Cape Cod wedding."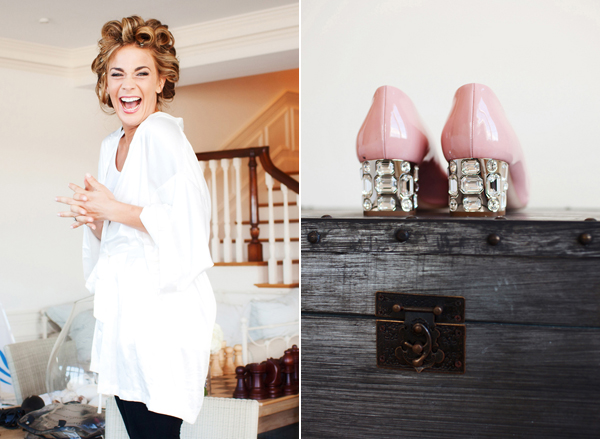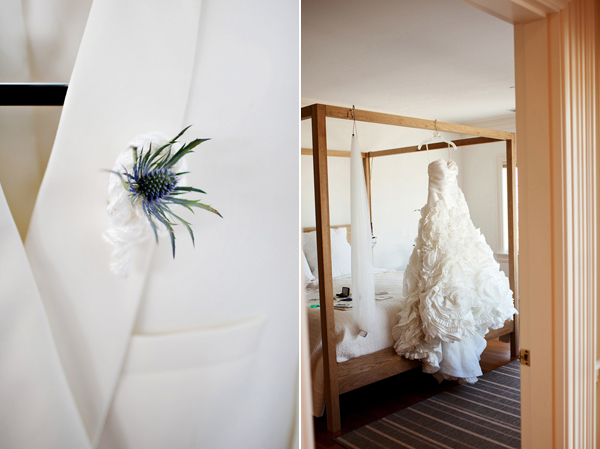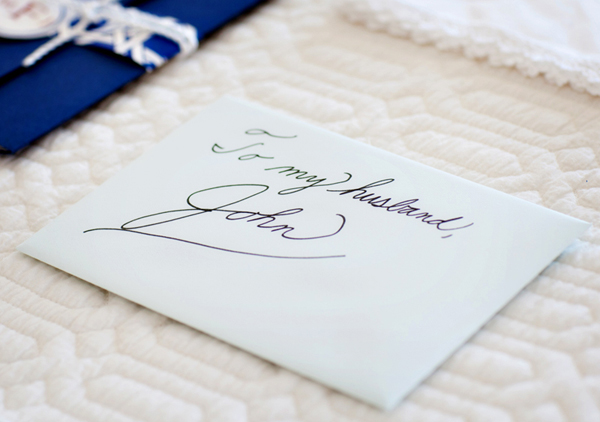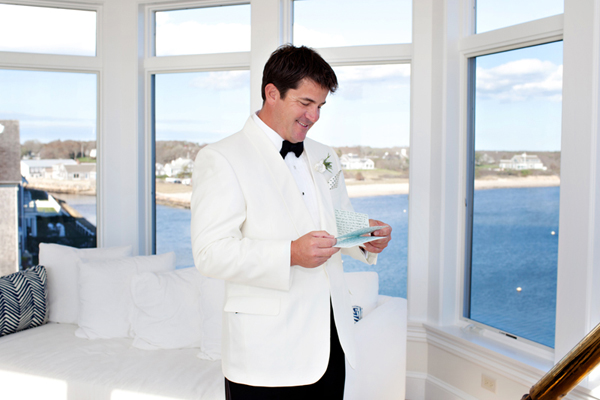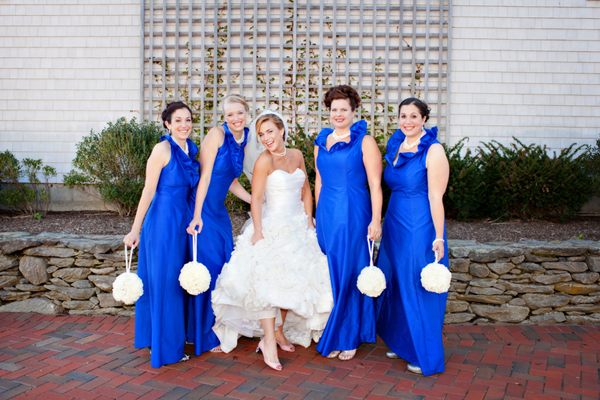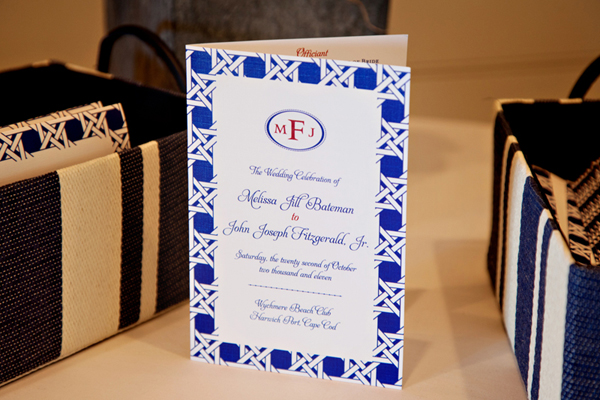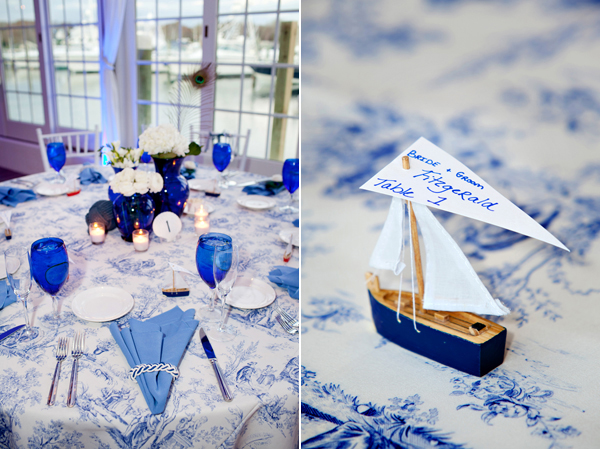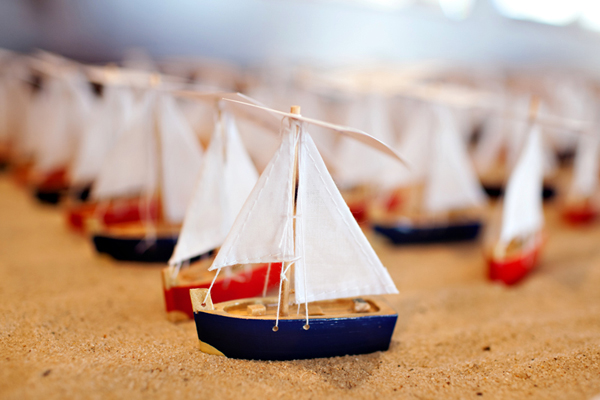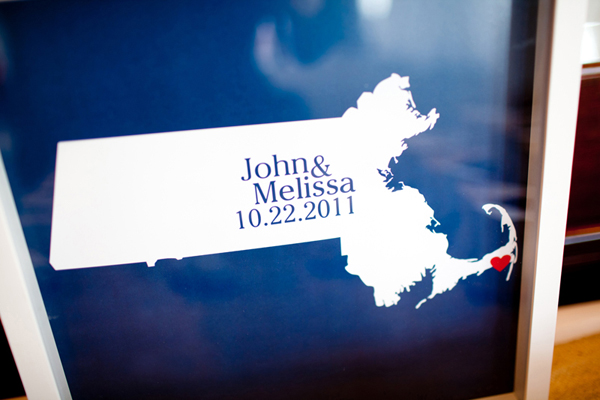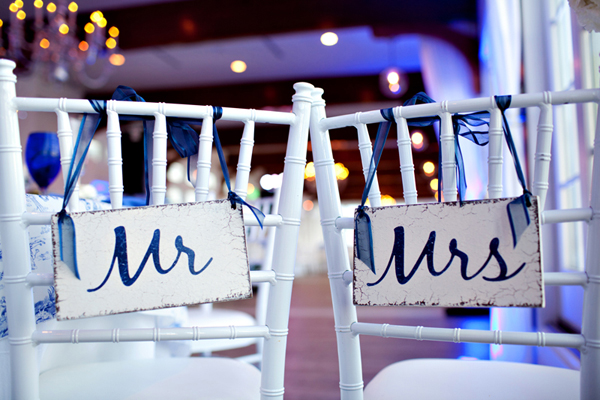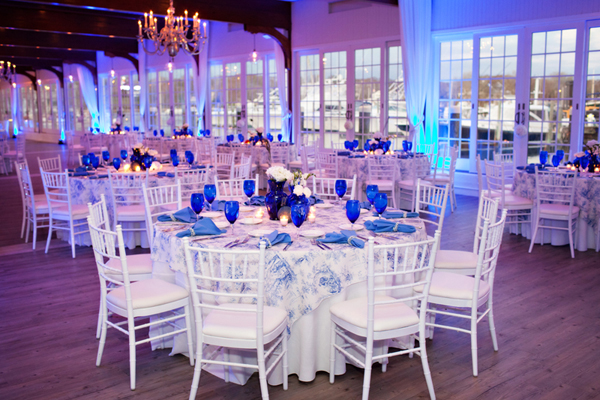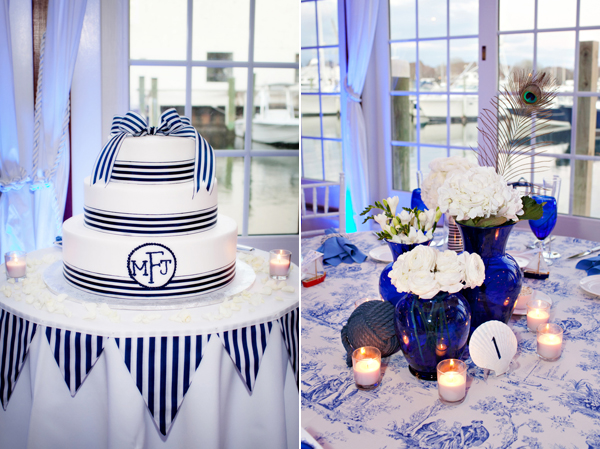 A quote from the bride: "When John and I started our search for a wedding venue we knew we wanted an ocean location with the feel of Cape Cod with blue hydrangeas and cedar siding but most places seem dated and rustic. We also wanted a location with a modern, upscale flair with the elegance of a five star restaurant. The moment we walked into Wychmere we knew we had found our spot! Their attention to detail captures the Cape's beauty and charm but offered a high-end alternative to the traditional tented affair or banquet hall. I was a bit nervous with our late October date and unpredictable New England weather, but we were blessed with the most gorgeous clear skies and perfect 65 degree day.
The day was perfect from start to finish! I joked through out the morning how could a bride be stressed out with the gorgeous views we had from every window! My happiest memory of the day was John's and my first reveal—having those 20 minutes to ourselves to share in each other's excitement and joy will be something I cherish for a lifetime. We even had time for quick pre-ceremony cocktail to calm our nerves—just the two of us! At one point during the ceremony I remember looking out the sliding glass door that overlooked Wychmere Harbor and thought it is so stunningly beautiful, I feel like I am in a movie! We danced until the wee hours of the night savoring every moment surrounded by all of our loved ones. I didn't think I could possibly love John any more than the day I accepted his marriage proposal but seeing how attentive my groom was to me throughout the whole weekend made me realize this is the only the beginning to our great love affair!"
Photographer: Person & Killian, Florals: Greenlion Weddings, Cake: Montillios, Ceremony: The Ocean Room-Wychmere Beach Club, Venue: The Harbor Room-Wychmere Beach Club, Hair: Jeff Kilcoyne of Jeffrey Robert Salon, Makeup: Brandon Hyatt of Make-up by Brandon, Linens: Be Our Guest, Lighting: Entertainment Specialists, Band: Joey Scott & the Connection