Wedding Tips… Shoe Shopping
Today we have some great tips from MyGlassSlipper.com on all things wedding shoes. They are an online outlet for designer wedding shoes. They got in touch with NWGlam and asked if they could share some valuable advice with all of you Glammers, so without further ado…
Six Wedding Shoe Shopping Tips for the Bride to Be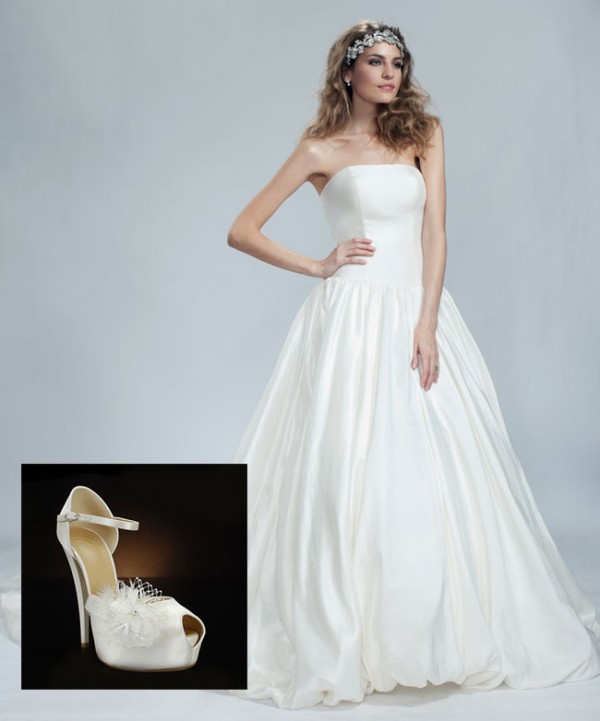 Your husband to be has proposed and you are so excited. Now, you need to choose the right dress, accessories, and shoes to make a statement and to make him proud as you walk down the aisle towards him. Shopping for the wedding shoes can be fun, but it can be difficult to find the right balance between making a fashionable statement and being comfortable on your wedding day. These six shopping tips will help you to find the right shoes for your special day.
Tip 1 – Consider the Colour
You can either choose a colour of shoe that matches your dress exactly, or you can make a real statement by shopping for wedding shoes that provides a contrast. Dying your shoes a colour can make a real statement of fashion on your big day. Some brides are selecting a blue shoe to have the "something blue" on the wedding day. Coloured shoes could match your other accessories, such as the ribbon on your flowers, or matching your shoes to your veil, hat, or bag.
 Tip 2 – Designer Shoes Match a Designer Dress
You have spent a small fortune on your gorgeous designer wedding dress to make a sensation as you walk down the aisle towards your waiting groom, so why not consider shopping for designer bridal shoes as well. Designer shoes will ensure you make a statement with every step you take. Don't forget that the shoes do show in many of the wedding photos, so you want to ensure you have something special on your feet to match your stunning dress.
 Tip 3 – Selecting the Size
When looking at shopping for your wedding shoes, remember that in heat and especially at times of high emotion (such as your wedding day), your feet will tend to swell, so purchasing shoes that are tight on a cool or ordinary day may become painful on your special day. Select shoes that are a comfortable size and go for a size that is half a size larger than normal if you do wear tight shoes usually.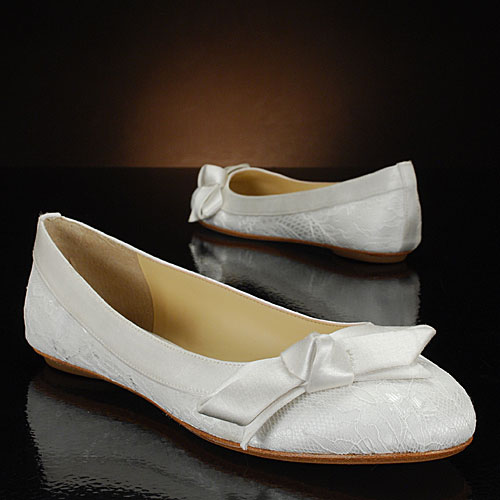 Tip 4 – Style Makes the Statement
A stylish wedding shoe is essential if you want to make a statement. Even if you have wide, extremely narrow, or difficult to fit size feet, a stylish design to the shoe will hide all of these faults. Don't assume you have to wear plain shoes, just because you have difficult to fit feet. Style comes in all shapes and sizes, so select a shoe that draws attention to the best part of your feet with a stylish embellishment. A narrow foot can look wider with bow or embellishment across the toes, while a wide foot will look narrower with the embellishments along the sides of the shoes or by drawing attention to the heel.
 Tip 5 – Heed the Heel
The heel of your wedding shoes will not only make a statement but will often be the first part of the shoe that people notice. An extremely high heel may look stunning, but it can be a risky strategy unless you are very used to wearing high heels for long periods. A medium or even a low heel may be more comfortable on your wedding day while still making a stunning statement.
 Tip 6 – Buy Early, But Avoid Haste
Buy your wedding shoes early because leaving it to the last minute will make the shopping process stressful instead of enjoyable. You will also want to take your wedding shoes to your dressmaker who will be able to ensure the length of your wedding dress is appropriate for the shoes you will be wearing. However, buying your wedding shoes several months before the wedding day does not mean you need to buy in haste. Give yourself plenty of time to review your different options for wedding shoes and you may be surprised at what you can discover.
Following these six shopping tips will help you to find the perfect shoes for your wedding day: shoes that not only make a statement about your sense of style, but will be comfortable to wear on your big day. Make your shoes a talking point by selecting stylish, designer shoes that match your dress and make their own statement.