Etiquette 101: Attire on your Wedding Invites: A Do or a Don't?
Long story short: it's a do.
(Ready for the long story?)
We feel there should always be attire printed somewhere in the invitation suite lest you give your guests zero guidance on what they should wear and end up having to field a million phone calls and emails asking such.
Honestly, no one wants to show up too casual or too formal so if you don't care about doing yourself a favor by specifying the proper attire then please do your guests a favor.
As far as where the attire directive should be placed… although old school proper etiquette says it should not be on the actual wedding "ceremony" invitation, in 2012 we feel that when a wedding ceremony & reception are taking place at the same location it is OK to announce the marriage and on that invitation to put "dinner & dancing to follow" OR "reception to follow" and then put the attire as the last thing on the bottom or in the right corner.
Now if the wedding ceremony is taking place in a house of worship then we feel (and we know you will see $$ signs when we say this), but we feel strongly that there should be a separate reception card that invites the guest to the reception with the information of where the reception is taking place, whether it is right after the ceremony or later on in the day and on THAT card the attire should be placed.
Of course, no one wants their Uncle Eddy showing up in a Hawaiian shirt, board shirts and flip flops if it's a black tie affair, but you would hope that your guests know well enough to come to a house of worship appropriately dressed. If you fear this admittedly far-fetched scenario becoming reality you can put more attire information on your wedding website.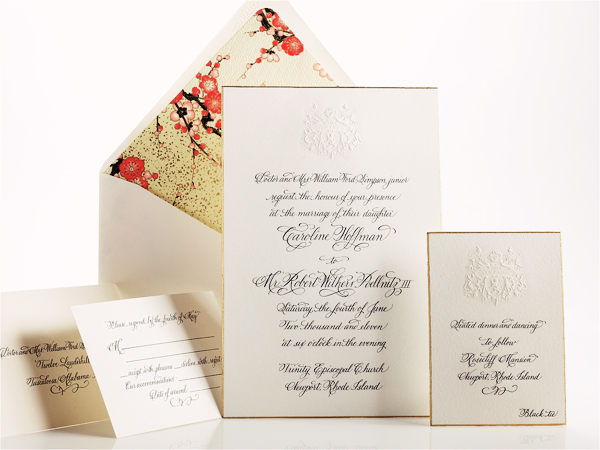 Oh and by the way, your wedding website is also a great place to go into more detail on what to wear. For instance, if your wedding reception is "cocktail attire" and you are getting married outside on a grassy area you may want to elaborate on the wedding website and let the ladies know to wear wedges or flats since you will be on the grass and men should wear a suit and tie. You can get real specific on the wedding website, but for goodness sake keep it simple on the invitation!
OK, one last point (and this is for all of you etiquette purists out there) for those who are having a ceremony and reception at the same place…if you don't mind spending the extra on an additional card, you can split up and have the ceremony invite as the large part of the invitation suite and then have a smaller reception card on which would be the attire specifications. Dare we say, this is truly proper etiquette if you want to follow Crane's and other etiquette books. It may feel repetitive, but the old school etiquette says that the wedding invitation should only be announcing the ceremony, which is ACTUALLY the wedding. Again it is 2012, but please don't try and cram everything in if you are having a ceremony and reception at two different places, this would be in poor taste.
Comment and share with other brides where you are putting your attire and if you are mentioning attire on your wedding website?
Credit: Belle Invito, Kyle Fine Stationery