Real Wedding: Caroline & Withers
You have seen all the fabulous events leading up to Caroline & Wither's BIG day, but the wedding day definitely "takes the cake"!  As you know it was featured in the Grace Ormonde New England Wedding Style Magazine on newsstands now and Newport Wedding Glam is taking an in depth look at all the details that went into this gorgeous affair!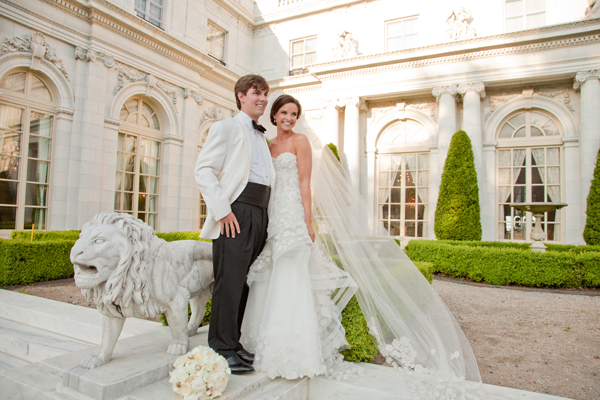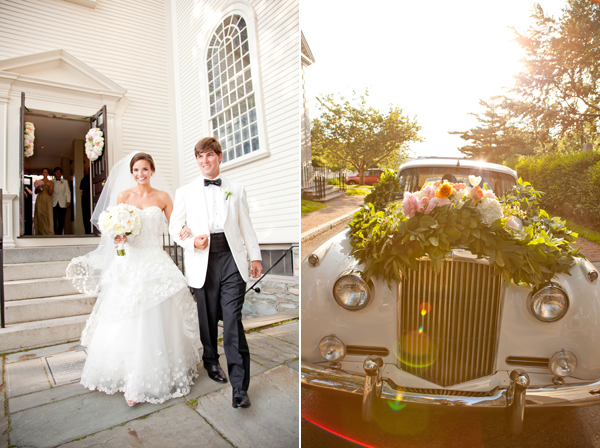 Caroline & Withers tied the knot in an Episcopalian ceremony at Trinity Episcopal Church in Newport, Rhode Island.  The unique style of the pew boxes, along with the history and the beauty of the church, it was truly just a beautiful ceremony.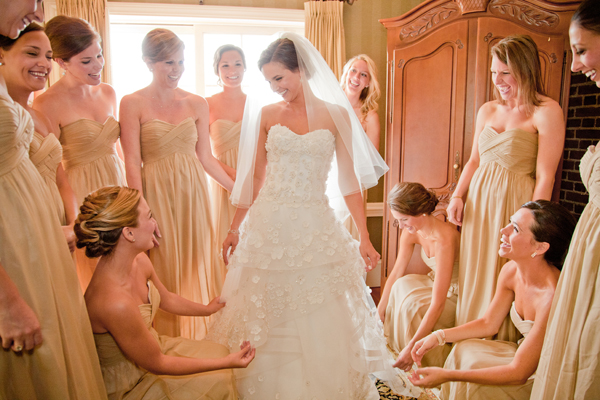 The stunning bride in her Monique Luhhlier gown from Mark Ingrahm Bridal Atelier, getting ready with her 13 bridesmaids at the Hotel Viking!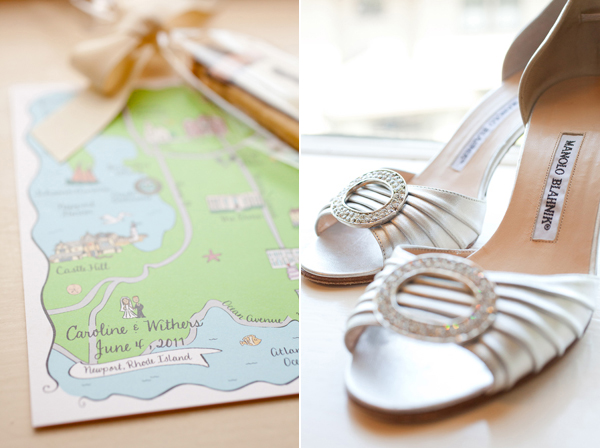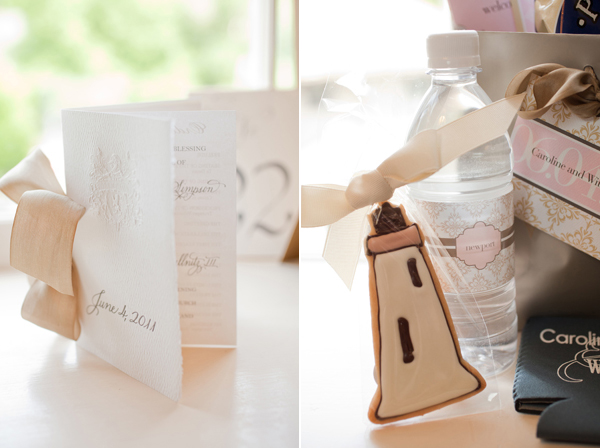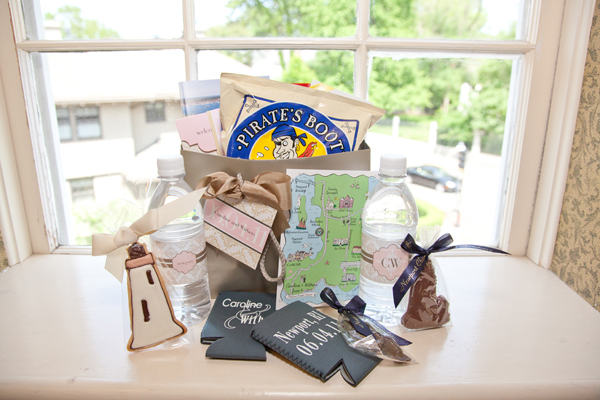 All the guests when they arrived to their hotel rooms were also sure to have a Welcome Bag chock full of custom designed and color coordinated to match the wedding décor with a Newport theme!  The bag included everything from Pirates Booty, to a custom color map designed by Laura Hooper Calligraphy, a lighthouse cookie in matching colors and ribbon by Confectionery Designs, a chocolate lighthouse from Newport Chocolatier, custom designed koozies, and a suite of custom designed waterbottles, gift tags and a welcome packet of information on the weekend all designed by the fantastic Alyssa Reeves of Paradise Design Company!  In addition, a brochure on the Mansions, a mini Newport magazine and map were also included with little mints and other snacks at the bottom. It could not have been more perfect!
Their perfectly designed wedding suite from the invitation, to the wedding ceremony program, to the table numbers and menu cards, every piece was printed on beautiful papers and coordinated once again perfectly.  With gold painted edges to the custom calligraphy by Boo Owens, everything was engraved and pieces included a custom designed crest of the bride's family that was blind embossed on certain pieces as well.  The escort cards were also all done in hand calligraphy each with a custom wax seal crest perfect for a Rosecliff Mansion wedding to set the tone as guests entered and picked up their escort cards as they entered the mansion. Kyle Fine Stationery and Belle Invito invitation suite was executed to perfection.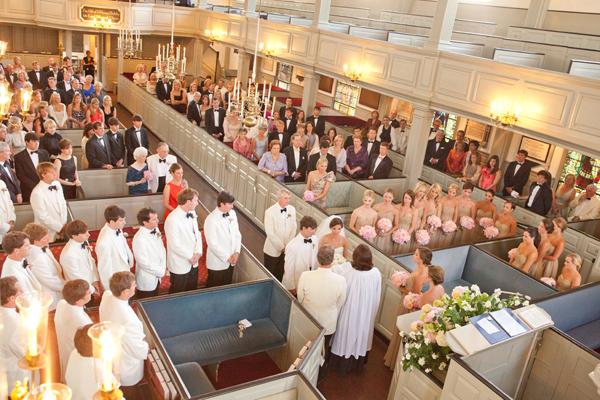 On each pew box at Trinity Episcopal, Raina Dawn Events, Event Planners & Designers, recommended hand calligraphy signs with ribbon to be hung so it was clear where the bridal party & family were to be seated, as this was logistically more complicated for the ushers to seat guests and RDEvents wanted to be sure to fill the boxes so that as many of their 200+ guests were seated in an organized fashion.  On the back of each card were also the names of the family so ushers could confirm who was in each box (see detail shots in the gallery of images).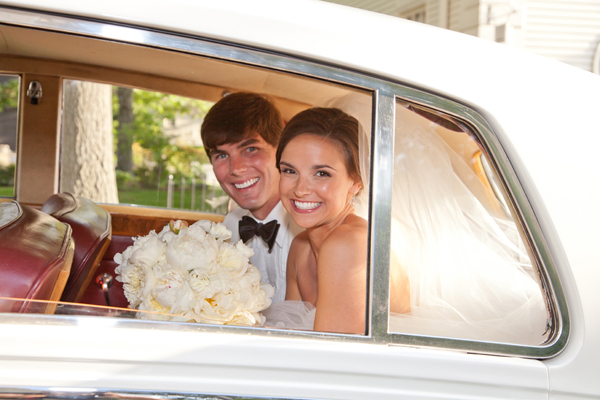 Guests were shuttled by Newport Wedding Trolleys from the church to Rosecliff Mansion where the black-tie reception took place.  The bride and groom were escorted by a white vintage Bentley limo from Tony's Antique Cars & the car was adorned with stunning florals and garland.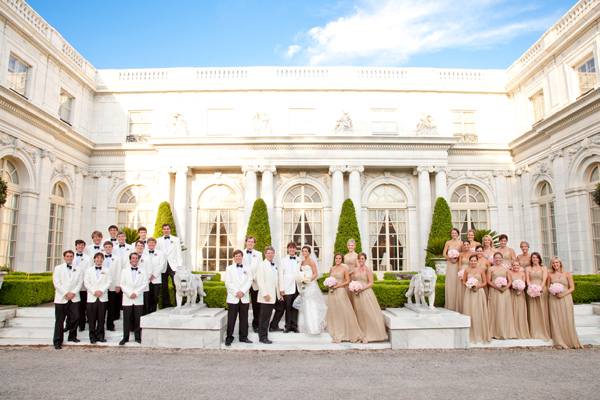 The bridal party was stunning and the groomsmen wore their off white dinner jackets with their tuxedos from Viking Tuxedo Rental in Newport and the bridal party could not have looked more dapper or Great Gatsby!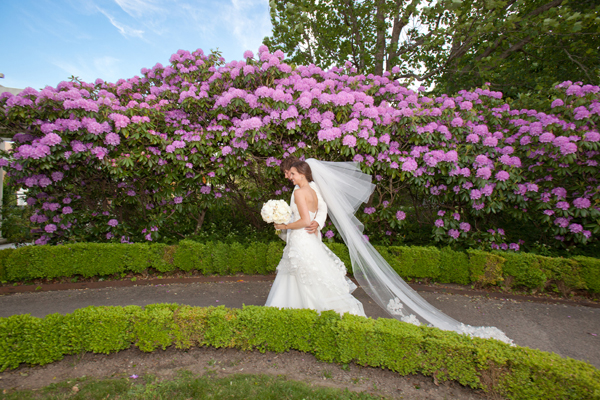 Does it get more romantic, thanks to Carrie Rodman Wedding Photography all of their day was beautifully captured!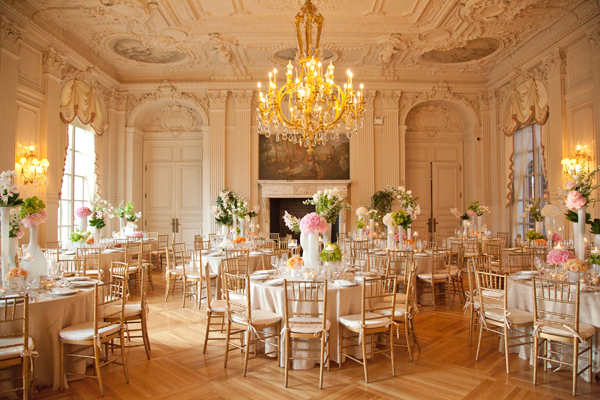 Stoneblossom once again took the floral décor to an entire new level.  There was a big mock up meeting at one of the planning weekends with Raina Dawn Events and the bride & mother-of-the-bride prior to the wedding.  At this time your typical one vase with a big arrangement of flowers was completely deconstructed and an elegant, chic and original floral concept for the ballroom tables was created by the genius work of Joyce & Dennis of Stoneblossom!  White glass vases of all sizes and shapes were grouped together with florals in the brides color palette were arranged with one flower in a vase, still extremely romantic, but over the top gorgeous and unexpected!  With multiple linens, china, stemware, and flatware, it was a fun day at the Stoneblossom studio as all the perfect combination of rentals were chosen from vendors including, Rentals Unlimited & Classic Party Rentals.  The end result- absolutely stunning!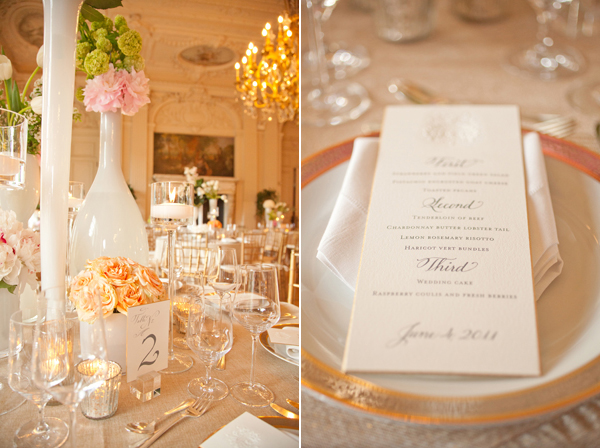 Every place setting also had an Italian white linen hemstitch napkin with monogram embroidered.  Does it get more proper and perfect!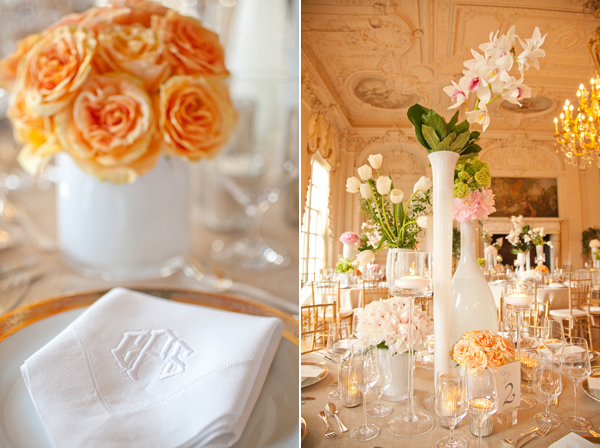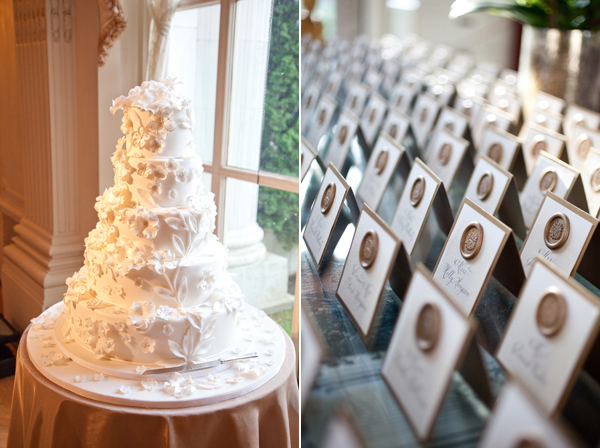 A custom designed cake by the artist and baker Ana Parzych Cakes, created sugar flowers and tiers of white and shimmery flowers to perfectly match the appliques of the brides wedding dress and incorporate it into an exquisite cake display.  Engraved silver cake knife and cuter sat waiting for the bride & grooms moment to cut the cake.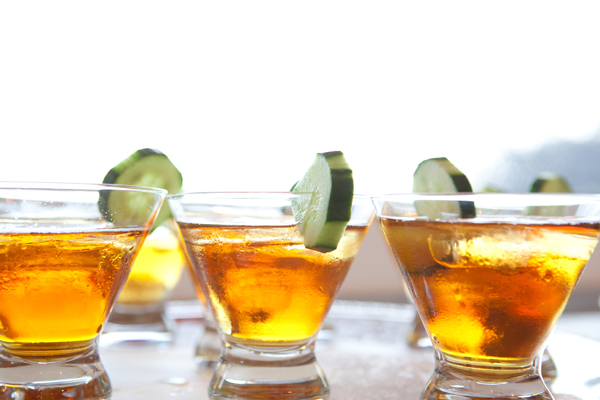 Plantation Catering catered the affair with a raw bar ice sculpture on the lawn, signature cocktails, oysters with a personal shucker and a surf & turf meal for a delectable culinary experience!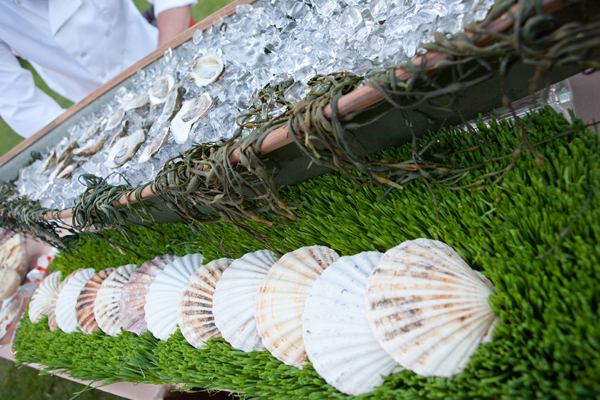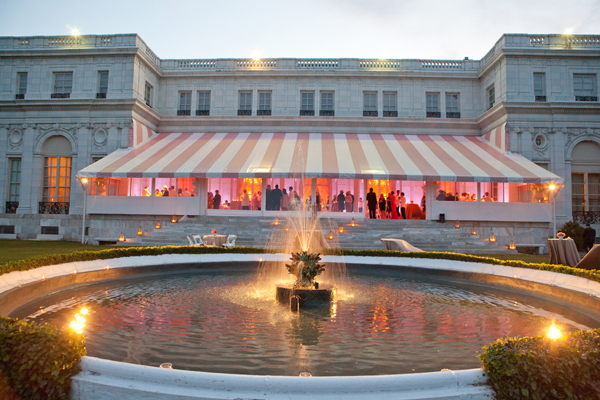 To be sure all the guests danced the night away the bride's family brought the Alabama band Musical Fantasy up from the south, and that dance floor was hopping the entire night!  To set the mood Ormonde Productions was brought in for the elegant lighting and candles.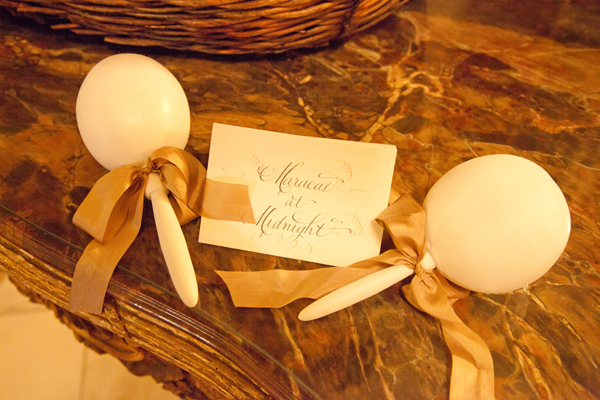 For Caroline & Wither's big exit Raina Dawn Events worked hard to think of a solution, as the bride requested sparklers which Rosecliff will not allow… so the brilliant idea they came up with that was not only original, but super pretty and fun for all the guests and another thing to take with them- "Maracas at Midnight"!  Wooden maracas were ordered and they were al l painted white, again to match the colors and tied with the taupe silk ribbon and placed in a big wicker basket for all the guests to take one and shake as they lined up and said farewell to the bride & groom as they drove off in their white limo and literally headed out that next morning for their honeymoon!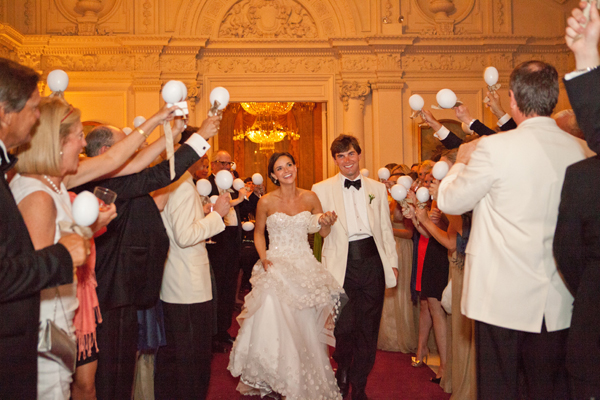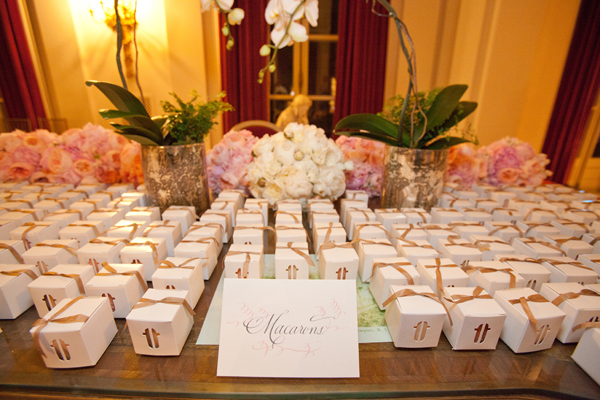 The final touch, something sweet for the guests, a favor to take with them, a bride's favorite, Macaroons from Lette Macaroons and yes, again to match!
Well if you haven't looked yet, be sure to check out all the gorgeous details in the full gallery of images and share with us what your favorite inspiration is and comment!
Thanks again Caroline & Wither's for sharing your spectacular wedding and events with all of us & we wish you all the best as Mr. & Mrs.!!
Credits: Ceremony Venue: Trinty Episcopal Church, Reception Venue: Rosecliff Mansion, Event Planner: Raina Dawn Events, Photographer: Carrie Rodman Photography, Florist: Stoneblossom, Lighting and Draping: Ormonde Productions, Tent: Newport Tent Company, Wedding Cake: Ana Parzych Custom Cakes, Videographer: Buzz Media Company, Caterer: Plantation Catering, Entertainment: Musical Fantasy, Transportation: Newport Wedding Trolley & Tony's Antique Wedding Cars & Rockstar Limo, Hair: La La luxe Salon, Accommodations: Hotel Viking, Wines: Bellevue Wines, Wedding Invitations: Bell'Invito, Kyle Fine Stationery, Calligraphy: Boo Owens Custom Calligraphy, Welcome Bag Itineraries, tags, water bottle labels: Paradise Design Co., Welcome Bag lighthouse cookies: Confectionery Designs, Welcome Bag lighthouse chocolates: The Newport Sweet Shop