Etiquette 101: How soon should you write your thank you's?
All of you lovely New England couples who were married this past summer, it's time to get those notes out!
Ok, so let's talk about an etiquette issue that no bride or groom really wants to think about pre-nuptials: Thank you notes. How long do you have to write them after proclaiming I do and what should they say? You probably won't want to hear this, but you really don't have a year to get your thank you's in the mail. Sorry. You have in our opinion, ummm, about FOUR weeks (ok I might give you 6-8 weeks MAX depending on how long you take for your honeymoon) and no, they can't be fill-in-the-blank form letters.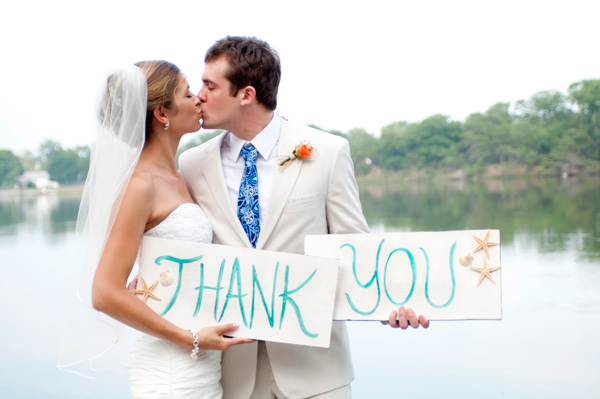 Take a look at Emily Post for a super helpful run-down of who should get a note as well as a list of the do's and don'ts of thank you note writing. Also, The Knot has some great note-writing advise, like this gem: "If the gift was money, mention how you plan to use it." Or this one: "Keep in mind that the wedding thank you note project begins way back when you gather your wedding guests' names and addresses to send the invitations. Do yourself a favor: Save that list! Make a copy of it at invitation time and put it away. Before you start opening gift boxes, find the list and record each gift next to the giver's name and address."
Now, don't freak out. You and your new spouse can embark on your honeymoon without the stress of penning 250 thank you notes weighing on your minds, just know that your guests will expect a hand-written note in the near-ish future. Oh, and don't be afraid to choose stationary that best matches your personalities. Try to have fun with it! After all, this will be the very last of your wedding duties. Check out these adorable thank you note ideas!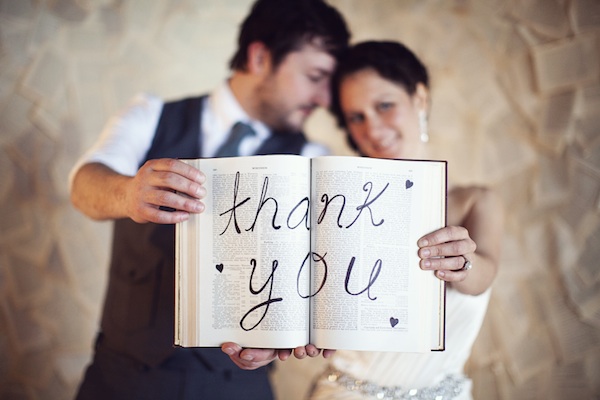 Photo Credits: Krista A. Jones, Louisa Marion Photography via Intimate Weddings