Etiquette 101: RSVP to Wedding
Ok, this is a serious pet peeve of a lot of brides and we don't blame them. Here's what needs to happen upon receiving an invitation to any event that calls for an RSVP, especially a wedding:
1. RSVP. Immediately.
RSVP is French for "please respond" (respondez s'il vous plait). Your most important obligation as a guest is to respond to the invitation immediately, especially if you are unable to attend. At the very least, it allows your host and hostess enough time to give the caterer an accurate count. Each caterer expects a certain amount of lead time and if you don't RSVP or if you cancel last minute the couple will likely have to pay for you even if you don't come to the wedding. To make it more convenient to RSVP, most couples include a reply card with pre-paid postage for you to return to them. If not, you may write a formal reply or a note indicating your intentions. Be sure to clearly write your first and last name and, if invited with a guest, their full name for the escort card. Don't just write "and guest."
2. An RSVP is not a punishment
Try to keep in mind, couples are asking you to RSVP by a certain date for a reason…usually multiple reasons. They need to get their seating done, send escort cards out to a calligrapher, get them printed and back in time then alphabetize them all before the wedding! Help them not have to stress and track you down for your RSVP…please.
3. Caveat
Obviously, if something serious comes up couples will understand a delayed response. But, if you are just being lazy, we say shame on you! At least give the bride and groom a heads up if you may have a conflict. Don't leave them hanging.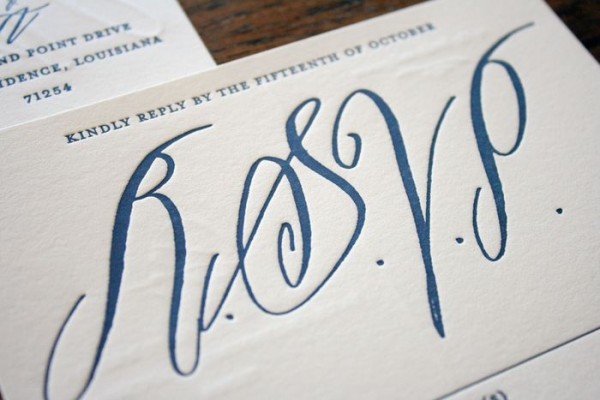 Credit: B. Dunlap, Parrot Design Studio