6 of Our Favorite Groomsmen Gifts
It seems like the guys always get left out of the wedding planning equation.  We gave the girls some bridesmaids gifts ideas in our last post, and this time we wanted to show the guys a little love by giving them six of our favorite groomsmen gifts ideas.
1. Group Caricature
Getting all your guys together in a group caricature will be sure to be a hit as your groomsmen gift.  You can pick an activity that all the guys do together, drinking a beer is often a commonality that groomsmen share!  The best part is you can do this all online and the cost is reasonable.  Just email in pics of all the guys in your wedding party and within a couple weeks your have your caricature emailed back to you.  With a group caricature, you'll have your groomsmen wondering how you pulled it off.  You can get them on this website for around $30 per person.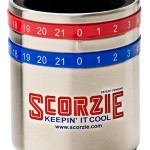 2. Score-Tracking Coozies
It can be very tricky to keep score with a pencil and paper when you have a beer in your hand. Not only are score keeping devices like a score-tracking coozie incredibly useful, they make fun and unique groomsmen gifts as well. The next time an impromptu contest breaks out among your groomsmen and his friends, he will be ready.  This Scorzie coozie not only keeps drinks cold, it also keeps score for two teams up to a score of 21 each. It comes in a tough stainless steel and it also features a slip-resistant foam bottom.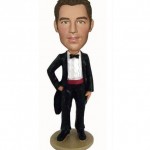 3. Custom Bobblehead
Take personalization to the next level by skipping your groomsmen's initials and creating a replicate of your actual groomsmen. Custom bobbleheads are creative groomsmen gifts your groomsmen are sure to get a real kick out of whether they put them in their cars or on their shelves at home.  The bobblehead on this website takes gift giving to a whole new level. With a photo of your groomsmen and the answers to a few questions on his looks, you will have a cool bobblehead gift in just a few weeks.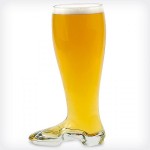 4. Drinking Boot
Drinking beer is cool; drinking beer from a drinking boot is awesome. Get your groomsmen matching drinking boots and hand them out at your reception. Before long you will be having a blast holding drinking contests (you can keep score on your handy score-tracking coozies if you have them lying around) and the wait staff will be reconsidering their position on free beer.
These one liter drinking boots are big enough to be fun but not so big as to be obnoxious. Use them at the wedding, then bring them out again at your next heavy-drinking occasion.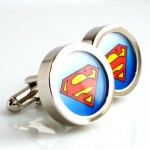 5. Fun Cufflinks
Nothing says "fancy outfit" like cufflinks. Skip the boring traditional options and look for something fun for your groomsmen gifts. Pick out one great pair that all of your groomsmen will appreciate, or pick out different individual pairs specifically tailored to each of your groomsmen's own unique interests.  These super hero cufflinks let your groomsmen show off a bit of their fun-loving and quirky personalities even on formal occasions. These cufflinks are just fancy enough for a formal occasion while still retaining a bit of rebellious and fun-loving personality.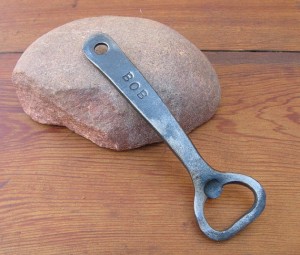 6. Hand Forged Bottle Opener
These rustic, hand forged bottle openers can be customized with the names of each of your groomsmen. Every guy needs a good bottle opener. This is a great simple gift, for guys who are not into all the fluff that comes with wedding gift giving. These awesome groomsmen gifts will run you about $38 bucks a pop on Etsy.
If you have any other ideas for great groomsmen gifts be sure to let us know.
We are huge fans of these engraved whiskey stones. If you are a scotch drinker and you don't want to water down you whiskey, these stones are perfect.  You get the best of both worlds with a fun gift that can be personalized.  Your groomsmen will have these in their bar for years to come, and will be a fixture in the bottom of their whiskey glass.