30 Wedding Experts Reveal the Best Wedding Venues in Newport Rhode Island
When you're a Newport bride-to-be, some planning decisions are easier than others, such as choosing the color palette, the wedding party, and the overall style you want to showcase on the big day. But, we've yet to meet a bride who has an easy time choosing one of the amazing Newport wedding venues for their special day. Why the challenge? Well, that's easy — Newport, Rhode Island is overflowing with magnificent venues that boast of having excellent views, superb staffs, and all the trimmings that a bride could want for her wedding day. Therefore, it becomes difficult for a bride to find "the one" when it comes to choosing a wedding venue in Newport that she'll love forever.
So, with this typical Newport wedding planning conundrum in mind, we decided it was time to reach out to the Rhode Island wedding experts for help pointing our readers in the right direction. We asked the Newport wedding photographers, florists, DJs, wedding planners, makeup artists and all the other professionals that attend dozens of weddings each year.  If there is anything that we know better than the most common challenges of planning a wedding day, it's that wedding vendors are the go-to source for all things wedding. Thanks to their inside knowledge and past experience working with almost every venue in the state of Rhode Island, local wedding vendors are priceless resources of wisdom when it comes to narrowing down which wedding venues in Newport are, in fact, the best of the best.
We were excited when 30 Newport wedding professionals cast in their votes for their 5 favorite wedding venues in Newport and shared their why they loved their top picks. And today, we're absolutely thrilled to be able to share their favorites with you. Below you'll find a comprehensive list of the top 20 Newport wedding venues — ranked in order of highest to lowest votes — that are absolute Rhode Island style perfection!  Before we get on to the results, we would like to thank the wedding experts who voted.
The Newport Wedding Experts Who Voted
Photographers: Blueflash Photography, Anna Sawin Photography, Jaclyn L Photography, Peter Silvia Photography, Armor and Martel, Allan Millora Photography, Hilary B. Photography
Wedding Planners: Unique Weddings by Alexis, Planned to Perfection, LLC, Couture Parties, Creative Ambiance Events
Makeup & Hair Artists: Ali Lamazzo Beauty, Bella Beauty Bridal, Formal Hair and Makeup Design by Lynda Williams, New Leaf Hair Studio, Salon Deniz, Makeover Artistry by Donna Sousa, M.A.W. Beauty Hair & Makeup Studio
Cake & Dessert Bakers: Sin, Scrumptions, Cake Coutore
Wedding Florists: Studio 539 Flowers, Hana Floral Design
Wedding Invitation Designers & Calligraphers: Little Birdie Papercraft & Design Studio
Bridal Boutiques: Andria Bird Bride
Officiants: Lark d'Helen
Videographers: Mike Picard Video
Caterers: Plantation Catering of Newport
DJs & Bands: Entertainment Specialists
The Top Rated Wedding Venues in Newport
Along with their picks for the best wedding venues in Newport, we also asked our experts to share a little bit about why their favorite venues are so near and dear to their hearts. Their words really explain why each venue featured here is so special, so be sure to check out what they had to say just below each featured venue!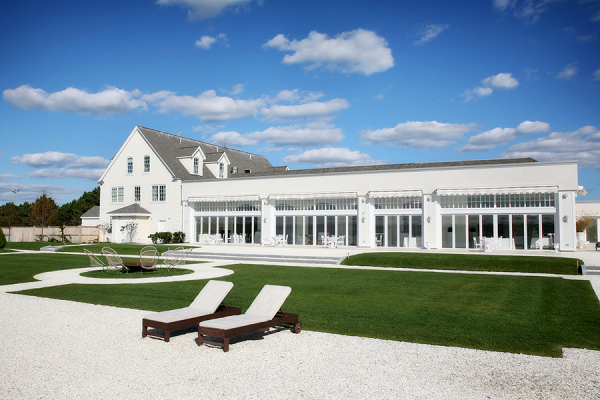 "We love its modernity, clean simple lines and the incredible view of the Newport Bridge. It's almost as if Miami and Newport meet at this venue. We think the open fire pit is a great special feature and the lawn lends itself perfectly for games for the guests too. We personally love the large, open room above the Island House to get ready and primp. It has plenty of space, lighting, and those same incredible views. Some of the best 'getting ready' photographs we've seen have been taken in this space." — New Leaf Hair Studio
"The Salon at Belle Mer is a blank canvas for the bride. It is modern and spacious with a chic look and feel. The white decor lends itself to infinite possibilities to personalize the space. It is a photographers dream as it is white and filled with texture. The decor outside is interesting and has a slight beachy feel but it is not over the top and the view of the bay is incredible.  With it's upscale modern look and feel it will surely make an impression on your guests. Advice for this space – When decorating your tables use pops of color to offset the white and once the sun goes down uplighting will make the room come alive, inside and out!" — Jaclyn L Photography
"Best for couples with a vision for decor or a penchant for white, sleek and modern. Belle Mer is the perfect backdrop to show off a couple's individual style, and of course, shots with the bridge are always a favorite! — Anna Sawin Photography
"The modern alternative in Newport that offers breathtaking views of the Newport bridge also offers high end cuisine and service. The Island House is a bit more Newport-like and an excellent option for smaller events." Unique Weddings by Alexis
"You can be so creative in Belle Mer because it is such a blank canvas.  It has 2 different options so if you love the location, you can find the space that works best for you." Planned to Perfection, LLC
"The Water salon, is a blank slate with it's floor to ceiling white interiors, chandeliers and the view of the Narragansett Bay the Newport Bridge are extraordinary! It is South Beach, Miami meets Newport, RI. " Coutore Parties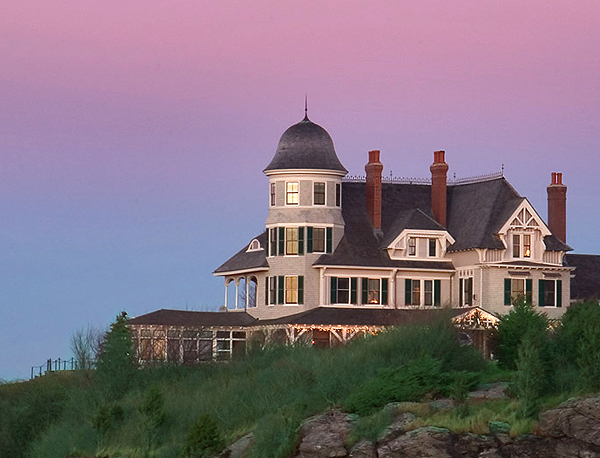 "I adore this venue. It takes my breath away! I think if I were to have another wedding myself, that I would have it here. To be honest what attracts me is the fact that I love the ultimate organization and history of the place. I also think that it is fab that the guests can gather here for a mini vacation weekend of wedding festivities and never have to leave. From rehearsal dinner & cocktails to wedding to morning after brunch! I Love it!" — Creative Ambiance Events
"The quintessential Newport venue. You have a the beauty of the historic estate, the ocean with the best view of the passing boats and a view of the Newport bridge. If you want the nautical upscale feel for your wedding Castle Hill Inn is the place for you. You can't beat the Sperry tent and the infinite possibilities for decor. This is my favorite outdoor ceremony spot because of  the view,  the beautiful stonework terrace and the light. In terms of photography there are also many different looks we can do in a short amount of time around the property.  The mansion, the rocks by the water, the beautiful garden and of course the iconic lighthouse.  Advice for this space – Drapes, paper lanterns or beautiful chandeliers as well as uplighting will personalize the space and give your photos depth and interest." — Jaclyn L Photography
"This property always amazes us. It is classically Newport! All of the rooms, cottages, and houses are gorgeous, the hospitality is top notch, and the food is simply delicious. The breakfast that everyone talks about really is "that" good and every guest must have a drink on The Lawn at sunset. The views from every point of the Inn are breathtaking (almost other worldly), especially the ceremony site and permanent tent (if we can even call it a tent because it is so pretty). " New Leaf Hair Studio
"A Newport icon, Castle Hill's newly renovated landscaping and terrace have enriched an already stunning wedding location. Beach, rocky shores, boats sailing by and that lawn make for fabulous photos." Anna Sawin Photography
"If you have your heart set on a gorgeous tent wedding, Castle Hill is your venue. Castle Hill is also a fantastic resort for out of town guests!" — Mike Picard Video
"The grounds and its location at the mouth of the Bay is spectacular. One of the best views of Newport's rocky coastline and the lighthouse is a great draw for couples and a fabulous opportunity for photography." — Peter Silvia Photography
"Rosecliff is so classy. Many movies have been filmed at this venue, including Great Gatsby (so of course, Rosecliff is great for a vintage themed wedding). This venue can absolutely accommodate a huge variety of wedding styles, including cultural weddings. Rosecliff is just 100% class and luxury."  M.A.W Beauty Hair & Makeup Studio
"Newport's most traditional and romantic mansion. A favorite for the large capacity, ornate dining room and the patio over looking the water. The ceremony area is known for it's stunning water views as well. " Ali Lamazzo Beauty
"Nothing compares to Rosecliff for yesteryear glamour, with the heart-shaped staircase and the acres of green lawn rolling out to the sea. When you arrive, you feel like you're in the Great Gatsby. Grand, elegant and yet perfect for a summery affair." — Anna Sawin Photography "This venue is the epitome of classic and timeless.  Brides who want to get married in the most grandiose fashion and make a statement will love Rosecliff." — Mike Picard Video
"Newport is known for it's stately gilded age "summer homes" along one of the most beautiful coastlines in the world. Why not get married there to be apart of Newport's society? This venue will make a statement for your guests and for your photos! The ballroom is breathtaking with the gold leaf and painted ceilings, it's grandiose chandlers and spacious ballroom. The lawn is the perfect place to hold your ceremony overlooking the bay with the mansion behind you followed by cocktail hour on the terrace. This is the most romantic venue in all of Newport. You can't beat a spacious view of the ocean, rose gardens, marble facades, a sweet heart staircase and a ballroom fit for a king and queen. Advice for this space – When decorating your tables be sure to keep your centerpieces full and tall. It will keep the space grand and will be in keeping with the theme of the romance and the gilded ages."  — Jaclyn L Photography
"This majestic venue brings every girl's Cinderella wedding dreams to life. It is one of the most ornate buildings in the area and is perfect for a wedding any time of year." — Plantation Catering of Newport
"So much history, beautiful grounds, magnificent mansion. It is stunning to walk into." — Planned to Perfection, LLC
"Phenomenal service and food. Beautiful terrace and views and love that couples can take over the whole inn. Gorgeous lawns and multiple outdoor spots for cocktails and ceremony. Overnight rooms make guests feel completely pampered for the weekend." — Unique Weddings by Alexis
"The scenery is just breathtaking and the staff is always so friendly and helpful." — Scrumptions
"The Chanler is my first choice for a small intimate wedding. I love the staff, very competent and friendly. Grounds are beautiful. Food is fantastic and consistent." — Studio 539 Flowers
"Great for either small intimate weddings or large formal ones. There are several ceremony choices on the lawns with water views and the terrace offers an alternative reception area. Each room in the "House" is uniquely decorated and are a photographer's delight to capture." — Peter Silvia Photography
"There is so much to love about The Chanler. The views of the Atlantic Ocean and First Beach are beautiful. The food is amazing, especially The Spiced Pear,  a French inspired restaurant located at The Chanler. The historic architecture and accommodations are gorgeous. We really like that the Cliff Walk is right there because every guest needs to experience the beauty of Newport's favorite spot." — New Leaf Hair Studio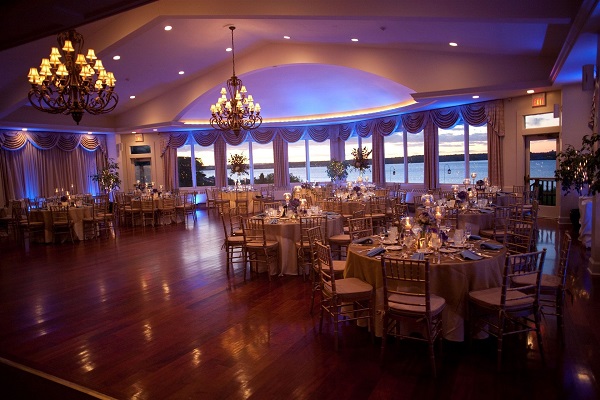 "OceanCliff is a beautiful historical venue that can accommodate a wide guest count range. There are guest rooms located in the Villa, so the family or the bridal party, or even out of town guests can stay on site. OceanCliff is just timeless." — M.A.W. Beauty Hair & Makeup Studio
"We love this resort for so many of its features. We love the beauty of the ballroom, and how it looks different for every wedding event. The views and grounds are spectacular, but we really love how everything–food, lodging, the reception–are hosted in one place. It makes for a really fun wedding weekend with all the guests!" New Leaf Hair Studio
"With beautiful views of the Newport Bridge and a reception room that overlooks the ocean, this venue has it all. It offers a beautiful outdoor ceremony space, and an outdoor cocktail hour that guests can enjoy." — Mike Picard Video
"Great view of the Narragansett bay, perfect for wedding photos. The food and service are great as well." — Allan Millora Photography
"This wedding venue has absolutely amazing oceanfront views and the staff is amazing!" — Bella Beauty Bridal
"Glen Manor is one of my favorite venues. It has everything a bride could ever dream of. The mansion itself is intimate and warm. The interior is stunning filled with historic decor and beautiful light. The space flows nicely from room to room, your guests won't ever miss a moment. Along side the the mansion you have the most incredible gardens and a view of the Sakonnet. You have the option of a garden view or an ocean view for your ceremony both which are unique and stunning. There are a myriad of photo opportunities all within the grounds of the Glen. Advice for this space: When thinking about your ceremony location take a look at the time of year and see where the sun will be. Lighting is key for your photography and who wouldn't want beautiful golden light during their ceremony." — Jaclyn L Photography
"My team and I have really loved performing our work there. The coordinator, Kate is especially helpful and wonderful with our clients. The space reminds me of a villa I resided at in Southern France in my 20's. I have to say that we also love that there is a choice when it comes to catering styles here." — Creative Ambiance Events
"Classic, very private with stunning views of the water. Great room for hair and makeup for the wedding party to get ready." — Bella Beauty Bridal
"Think European setting with wonderful architecture, manicured gardens and a water view!!" — Peter Silvia Photography
"I think its a great option when you want your guests to stay at the same location as your reception. The lighthouse is great for ceremony spot and the location is great." — Planned to Perfection, LLC
"The Hyatt is the perfect Newport "one stop shop." First, Hyatt Hotel chains are great in general. I had a recent wonderful experience with a Hyatt, so I'm sure that service is probably a high standard throughout the chain. Hyatt just has it all. Its on Goat Island, so the location is great. You can have your ceremony, cocktail hour, and reception there. Hyatt is a hotel, so your guests can stay at one place with no commute for any of the wedding day events. Hyatt is a great choice." — M.A.W. Beauty Hair & Makeup Studio
"With this being a hotel, it proves to be very convenient for guests and the bridal party to stay in one place! Offers a gorgeous outdoor ceremony space by the lighthouse, also with the ocean in view!" — Mike Picard Video
"Hyatt has a beautiful lighthouse which is perfect for ceremonies and portrait photos. Great sunset and amazing view of Newport and the Newport Bridge." — Allan Millora Photography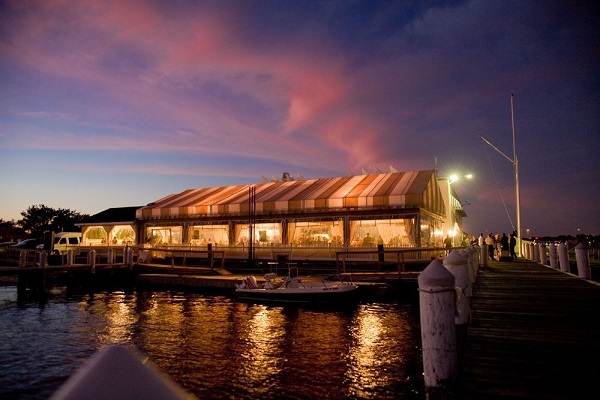 "One of our most favorite wedding venues in Newport! Love the "on the dock" feel with the water right in the back drop." — Bella Beauty Bridal
"Regatta place is another Goat Island gem. The location is beautiful, and the venue seems that it can cater to a variety of wedding styles. Its very elegant." M.A.W.Beauty Hair & Makeup Studio
"This wedding venues is literally on the water in a tent on the pier — you can't get closer to the water than that. It is the ultimate nautical experience."  — Entertainment Specialists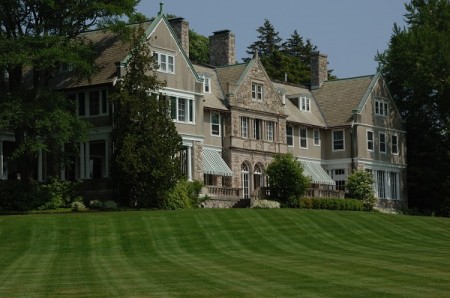 "Much like Linden Place, this wedding venue has a gorgeous main mansion but it holds all of its weddings down on the lawn under a grand tent.  The tent is basically a blank canvas that you can create with your own décor." — Plantation Catering of Newport
"The gardens are beautiful and the service is impeccable. Karen, the Director of Special Events, is wonderful.  She works very hard for our brides to make sure the details are in order and the stage is set for a wonderful beginning!" — Creative Ambiance Events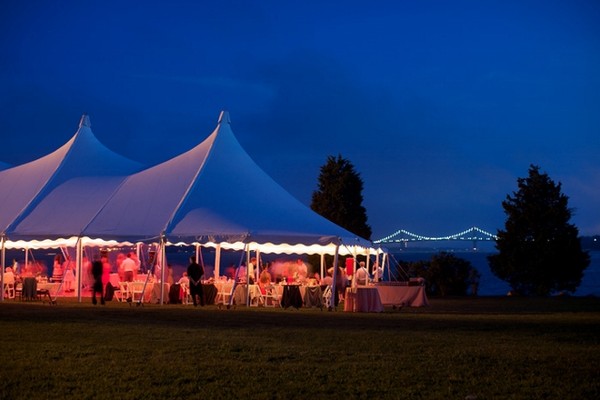 "While the barn is fabulous and I love it there, my real favorite venue on the Mt. Hope Farm property is the Captain's Cove cottage. Perfect for a tiny wedding, or a great part of a tented larger wedding, it is surrounded by water views and a stunning wooded location, and might be the most versatile and beautiful wedding location in all of New England. I guess the secret will be out now! The staff at Russell Morins is exclusive to Mt. Hope Farm, and since they know it inside and out, the catering service is extraordinary." — Anna Sawin Photography
"For the rustic farm and barn style wedding, this venue is the perfect setting" — Hilary B. Photography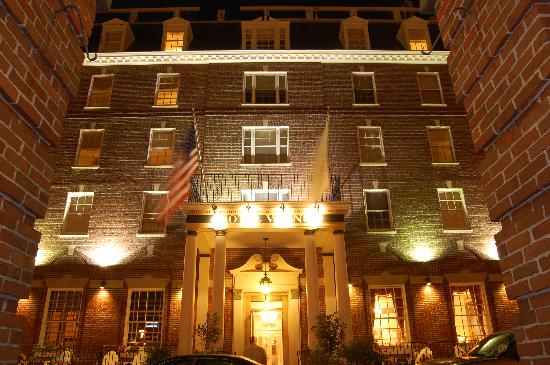 "I love this venue for couples who want the luxury of a ballroom event. It has amazing vintage charm and details. The location is fabulous and it brings an element of Hollywood glam to events." — Little Birdie Papercraft & Design Studio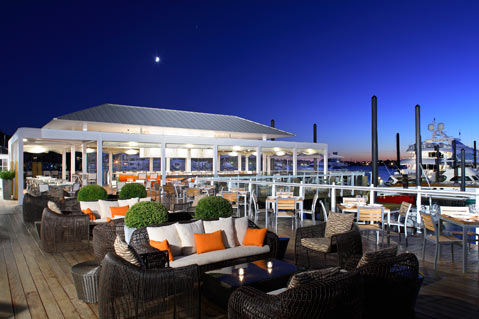 "This wedding venue is really unique in that it has a boutique/Newport chic vibe so it feels intimate setting for guests. It is stunning in its decor and the views of the wharf. The food and hospitality are wonderful, and we love that it is located right in downtown Newport. This makes a really fun venue for out-of-town guests because of its proximity to all the shops and restaurants. No one has to worry about parking, which can always be a challenge in the summer in Newport!" — New Leaf Hair Studio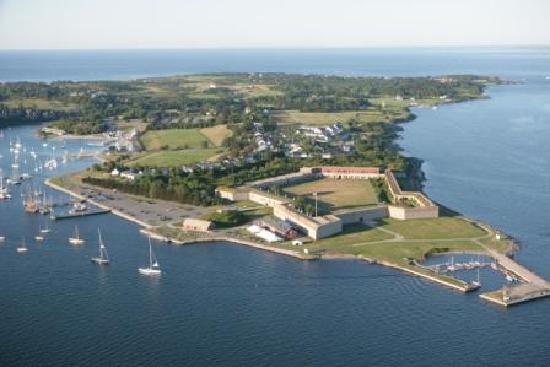 "One of the most unique wedding venues in Newport. With all these venues the view of the water is key! You are on a point overlooking the Newport bridge but in the coolest venue ever! The inside is rustic and cozy and again has a lot of potential with decor to make it more personal. The perfect place for a bride who want's to think outside of the box. Advice for this space: Long family style tables really make this space and decor the place up! Tall centerpieces and lots of candles!" — Jaclyn L Photography
"Fort Adams is a unique outdoor wedding venue with a more natural rustic feel." — Sin
"I love this venue because has such a large space and a great view in every spot of the room." Planned to Perfection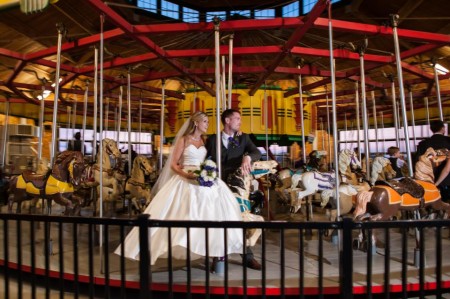 "This venue is near and dear to my heart.  The simplicity and beauty of the rotunda, the location directly on the beach, and of course…the carousel." — Little Birdie Papercraft & Design Studio
"Casual setting on scenic beach and its affordable.  We love the Carosal!" — Lark d'Helen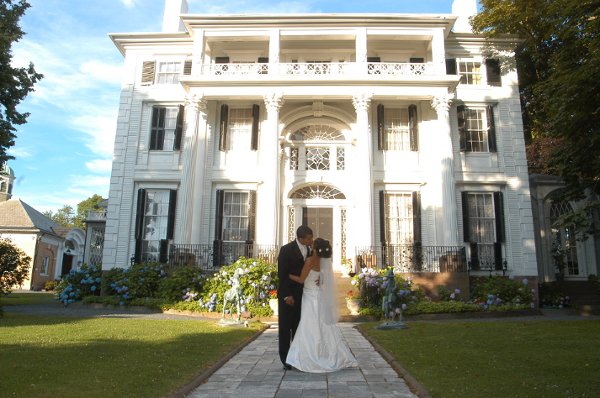 "Rustic and vintage are the two words that come to mind for this venue.  The antique main house and carriage house are totally different, yet both gorgeous." — Plantation Catering of Newport
"The perfect wedding venue for a romantic house and garden style wedding." — Hilary B. Photography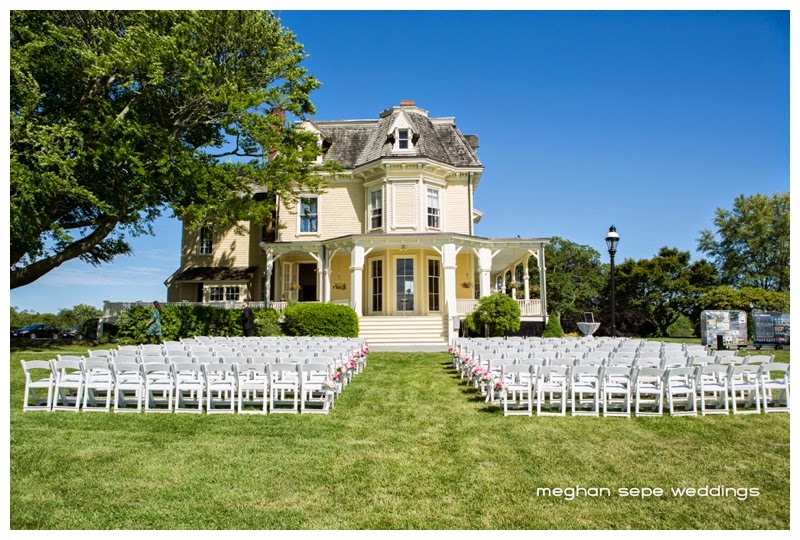 "This venue has such charm since it was built in the late 1800's. Not to mention the history of being the home of a former president, the house is beautiful and the views are fantastic.  A great place for a lovely tented wedding." — Little Birdie Papercraft & Design Studio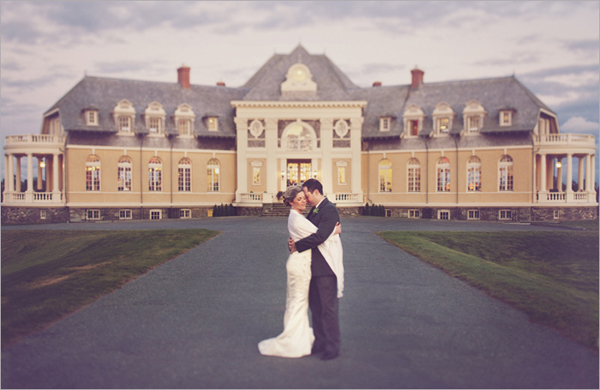 "The "main house" is the scene for your band and dancing and bar, while a tent attached to the back of the house is your dining tent. You have so much charm in this establishment." — Couture Parties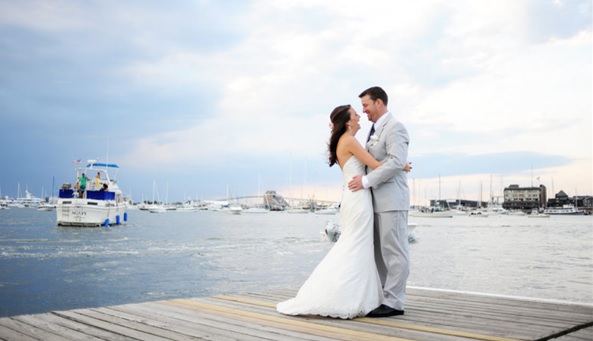 "This is another amazing wedding venue with a very "Newport feel".  You will have your wedding right on the water with AMAZING yachts just feet away!" Bella Beauty Bridal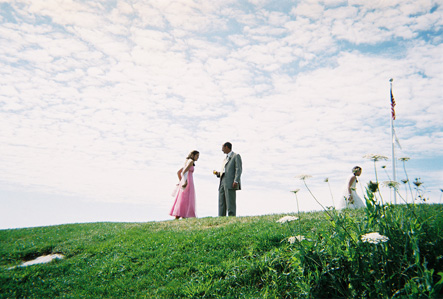 "A hidden gem in the waters by the Newport Bridge. Perfect for the adventurous couple. Tents, clambakes, even a few overnight rooms, the island has it call. Set up, breakdown and guest transport all by boat is a bit challenging, but completely worth it when you get the use of a private island with the amazing water views 360 degrees around!" — Unique Weddings by Alexis
If you're a Newport bride on the hunt for the wedding venue of your dreams, be sure to check out some of the beauties featured on this list. You never know — the venue you've been searching for might be waiting right here!