5 of our Favorite Bridesmaid Gifts
You hand picked your bridesmaids because you wanted them standing by your side on your big day. When it comes time to think about your bridesmaid gifts, we've come up with five of our favorite ways to honor their special relationship with you.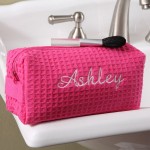 Personalized Make-up Bags
She helped you look pretty on your big day. Remind her of your appreciation every day when she makes herself look pretty with a personalized make-up bag. If you know what type of make-up she prefers, you can even include a few nice pieces in the bag. You can't go wrong with a pretty pink lipgloss, a tube of high-volume black mascara or nail polish in a delicate pastel lavender. The make-up bag pictured here is one of our favorites, you can find it on this website for $20 per bag.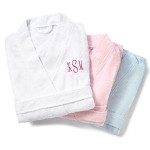 Bridesmaid Robes
You may choose to get your bridesmaids soft lightweight robes they can wear when lounging around the house on a lazy afternoon. You can wear them while you are getting ready for your big day and take a couple pictures of you all together in your robes. Then every time your bridesmaids wear their robes after your wedding, they can remember their friends in their matching robes and smile. You can get the robes pictured here on Bridesmaid Gifts Boutique for around $25 a piece.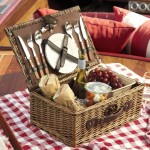 Wicker Picnic Basket
Adorable wicker picnic baskets with an inside lining in your bridesmaids favorite colors are creative bridesmaid gifts any bridesmaid will appreciate. Fill the inside with a couple fancy wine glasses, plates, linen napkins, and sets of silverware so the basket will always be ready to go. A bottle of her favorite white wine or sparkling grape juice adds a nice touch as well. We love the picnic basket pictures here, which you can get on Pottery Barn for $89.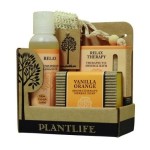 Gift Certificate for a Local Spa
Being a bridesmaid is hard work! Let your bridesmaids pamper themselves by getting them a gift certificate to a local spa. Whether they choose to have a manicure, pedicure, facial or massage, they will feel simply spoiled. You can give the gift certificates early and all go together as one last pre-wedding girl's spa day, or you can give the gift certificates at the wedding, so the girls use them when they most need them. If you do not have a good spa in your city or you know your bridesmaids will be too busy to book appointments, you can always substitute an at-home spa-in-a-box like this spa therapy kit.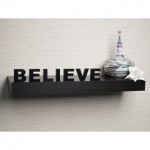 Unique Home Décor
Get your bridesmaids something as special as they are by purchasing them truly unique home décor items as their creative bridesmaid gifts. Unlike other presents that will be used once and then forgotten, a unique piece for the home is something your bridesmaids will see and cherish every day. Stroll through the aisles at your local Target, Pier 1, or TJ Maxx until something jumps out at you. From dog statues to birdcage key holders to horse salt and pepper shakers, the options are endless. You can find a bunch of unique home decor options on Overstock.com.