Honeymoon: Africa!
Throughout all of your planning and perfecting, I am sure somewhere on your long list of to-do's is your honeymoon! It is your first vacation as a couple, your first time really alone after I am sure a family filled week, your time to relax and enjoy each other. So, where should you go? Why not somewhere that has everything from laid back islands to up beat cities? Why not Africa? Once again we asked our travel agent friend Arlene Brenner to give us the down low on this breathtaking country, and here's what she had for us.
Africa is so Romantic, it is really made for the Honeymooner.  Your choices of places to stay range from intimate Safari Lodges with private tents, private plunge pools, unsurpassed service and topped off by falling asleep to the sounds of life on the plains of Africa in the evening OR if you love the city life, tasting the flavor of trendy Cape Town with all that if has to offer.  South Africa offers very accessible Kalahari Gemsbrook and Kruger national park with nature zones sprinkled with properties custom made for the honeymooner.
There are 47 countries on the African Continent.  The Islands off the coast bring the total to 53. Selecting your honeymoon destination, really depends on your likes and interests, what you want to do and see. Working with your travel agent is so important because matching you up to the right property will make your honeymoon that much more special.
Singita Ebony Lodge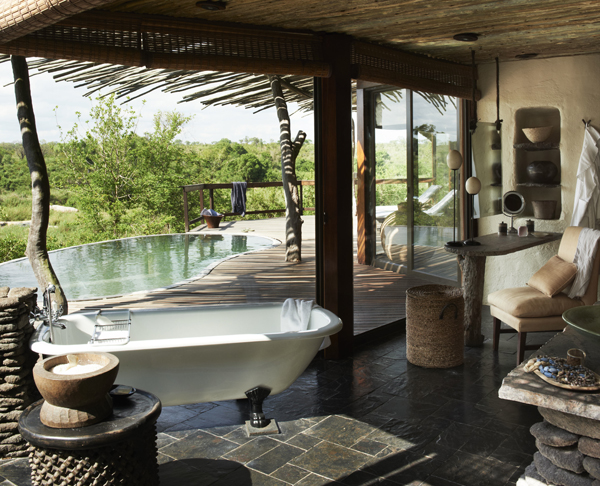 Singita Ebony & Boulders Lodge is located in the heart of the world-renowned Sabi Sand Game Reserve, a vast expanse of pristine wild Africa that thunders to the sound of the migrating herds. Sabi Sand lies adjacent to the Kruger National Park, though no fences exist between the two, allowing the animals free roam across the wild expanses.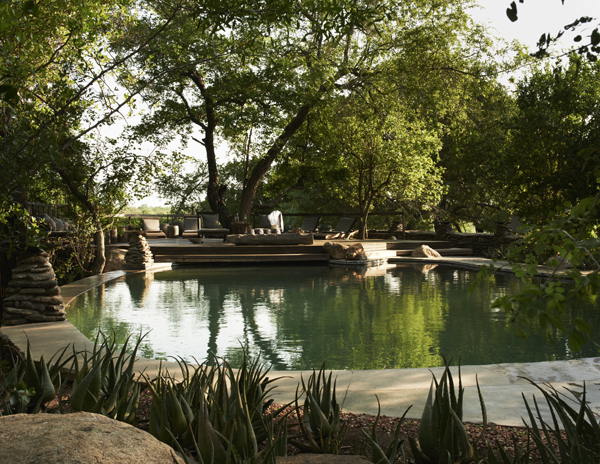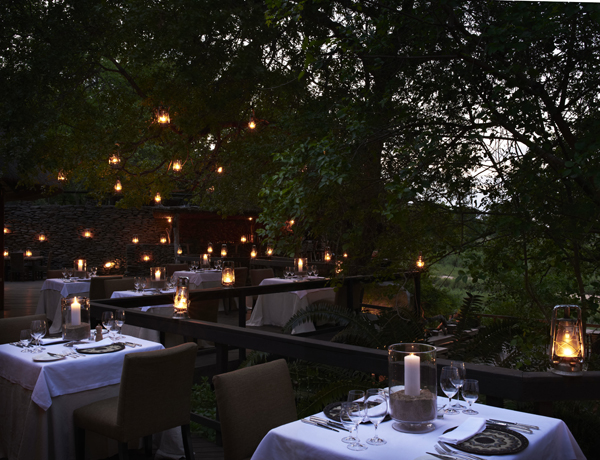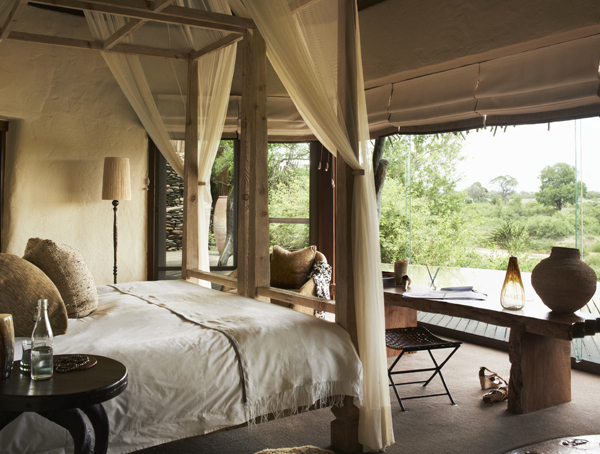 The ameneties are amazing! The food is simply world-class. The wine cellar offers an unbelievable 12,000 bottles and one of the world's best private cigar collections. Private balconies provide outstanding viewing of the bush and the animals.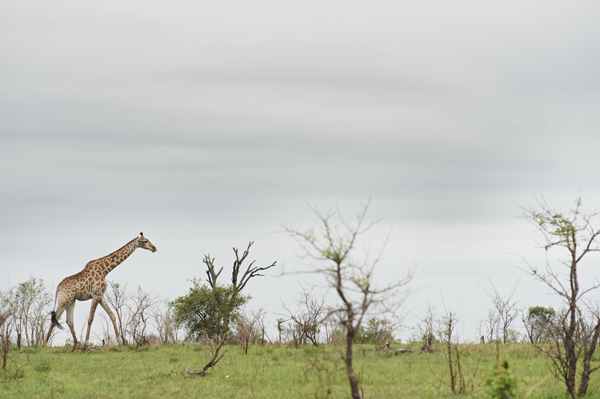 Cape Town
South Africa has been led by Cape Town in developing attractions to appeal to visitors.  Known for it's natural beauty, Cape Town is also a playground for the, adventurer, adrenaline junkie, nature lover and in fact anyone who has a passion for the outdoors. This is where the two oceans meet, providing us with a feast of adventurous activities for the ardent adventurer. From hiking  in the mountains to diving with the Great Whites and almost every other daring activity in between, there is something for everyone.  Food and Wine also top the list of activities while in Cape Town.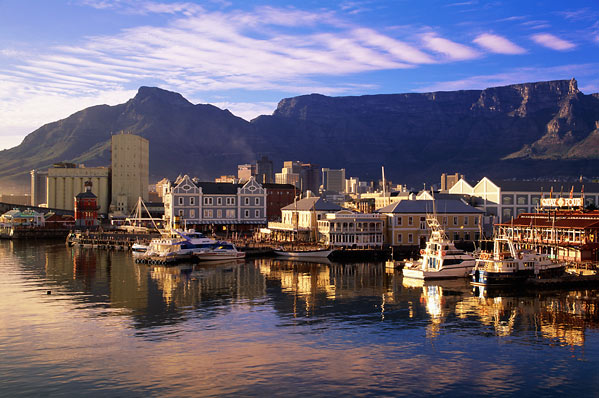 Among Cape Town's many attractions are the Victoria & Alfred Waterfront (a shopping and entertainment complex), glorious sun-soaked, sandy beaches, and a variety of trendy restaurants and nightclubs.  Cape Town is a great vibrant and cosmopolitan city and a terrific way to begin or end your Honeymoon in Africa. Cape Town has many wonderful hotels and resorts like Cape Grace, 12 Apostles Hotel, Mount Nelson and One and Only…just to name a few.
One & Only Cape Town
One & Only Cape Town offers views of Table Mountain and the marina and is within walking distance of the soccer stadium built for the 2010 World Cup.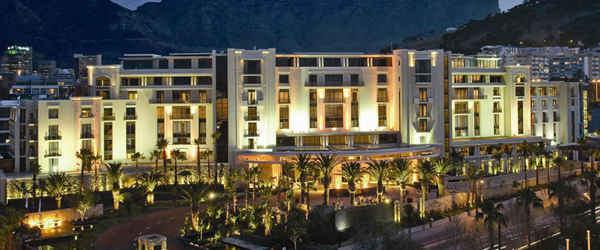 Located in the heart of the city, the property sits among the historic Dutch buildings for which Cape Town is known, but has a reputation as the city's flashiest and most celebrated opening in many years. The somewhat plain exterior gives little hint of the scale and grandeur of the interior views built around an island where the spa and pool are located. The hotel is magnificent in many respects and a Beautiful spoke for the Honeymooner.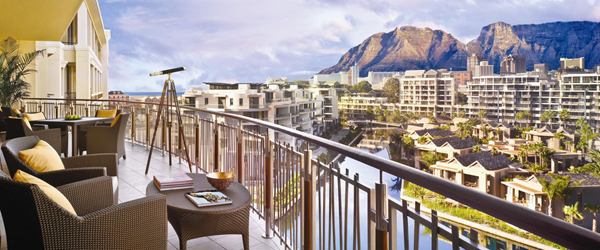 There are many wonderful tour operators that offer complete private tours and excursions. Micato Safaris, Abercrombie & Kent, African Travel are just a few companies that specialize in putting together private honeymoon itineraries.  Important to remember is when you plan your honeymoon with a Signature Travel Agency, many time you will received additional amenities and perks that are not offered to other travelers.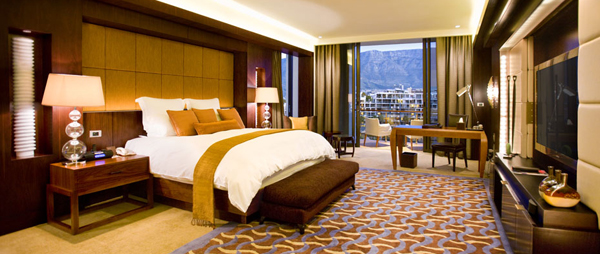 Whether your widlife watching in Sabi Sand, or letting Cape Town be your playground, we think Africa has something for everyone. If your are thinking of the one and only Africa, please call or email Arlene Brenner at Travel 15 to find out more about what perks you will receive.
Photo Credits from Top to Bottom: Singita Boulders Lodge, Best Tourism, One and Only