Inspired by…Hand-Painted Wedding Cakes!
There was a time when wedding cakes came in two flavors…chocolate or vanilla. This was the same time that white or chocolate icing found their way on to every single wedding cake there was to be seen. Thankfully, however, those days of boring wedding cakes are over and gone. Today, wedding cakes can take the shape, color, and theme of anything you can dream up and we are definitely loving all the creative freedom. Newport brides are too. Everywhere you look wedding cakes are taking the top tier as one of the most important reception decor pieces, and rightfully so. However, one wedding cake trend, that is making a splash at weddings throughout Rhode Island, has us truly inspired to share this week. Can you guess what trend we are referring to? If you guessed stunning, hand-painted wedding cakes then you are spot on! From the artistry to the fine detailing to the gorgeous designs, hand-painted cakes definitely stand apart from their fondant counterpart and take your wedding to a whole new level of pretty.
Not convinced? Let Newport Wedding Glam share some of our favorite designs with you and show you why hand-painted wedding cakes are worthy of your every ohh and ahh. We promise that by the end of this blog you'll be calling your local cake artist and placing an order for a hand-painted cake for your special day!
The Stained Glass Inspired Cake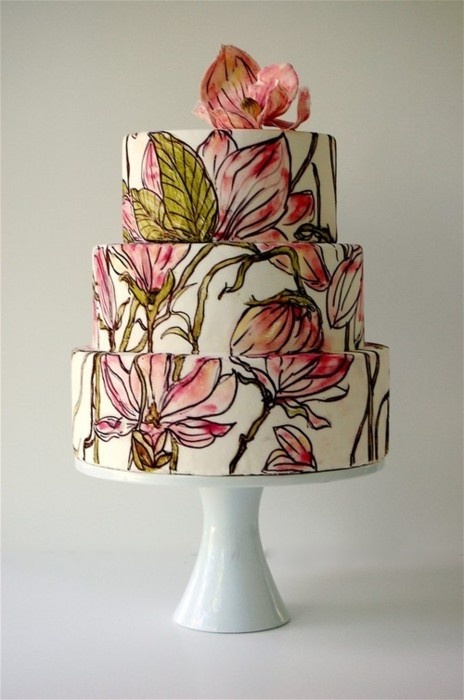 credits: Maggie Austin Cake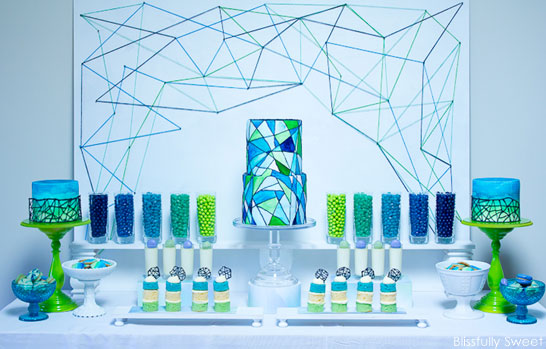 credits: Blissfully Sweet
credits: Maggie Austin Cake
The intricate details of a stained glass inspired wedding cake are beyond beautiful. We love that each look has a personality of its own and has its own unique coloring that can range from pastels to deep blues to neutrals. A hand-painted wedding cake of this style is perfect for any Newport wedding; from an elegant soiree or a more laid back, vintage wedding day. Seriously, aren't they almost too pretty to eat?
The Hand Lettered Inspired Cake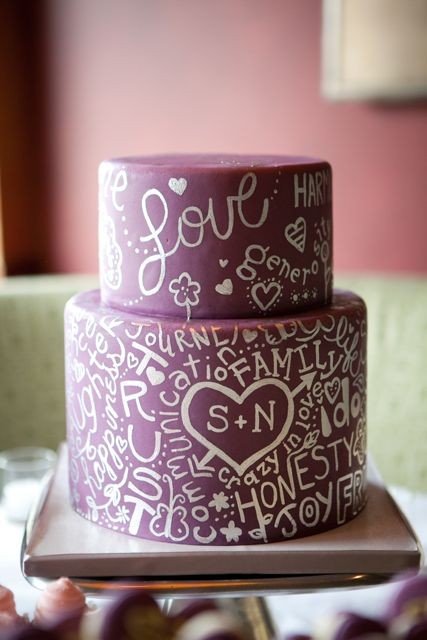 credits: My Sweet & Saucy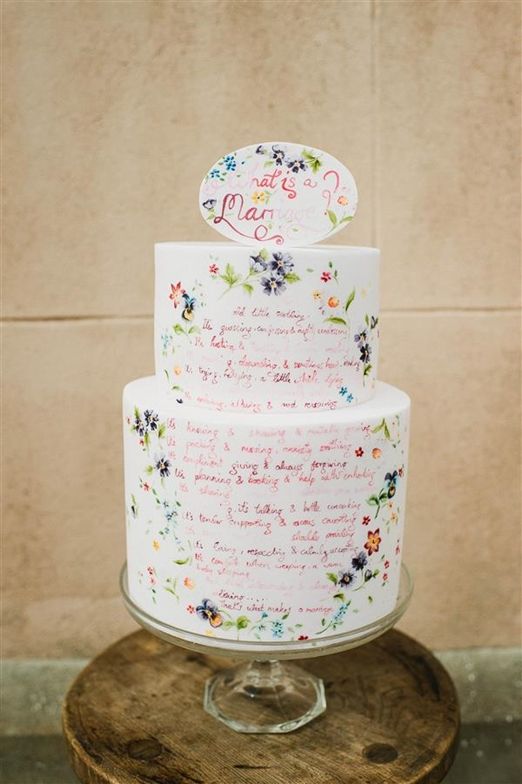 credits: Alexa Loy Photography, Bespoke Verse, & Nevie-Pie Cakes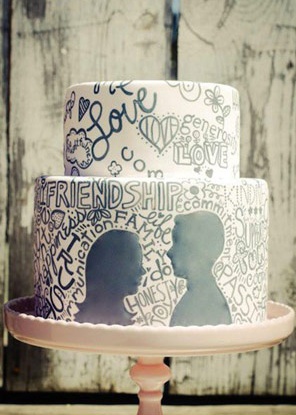 credits: My Sweet & Saucy
Hand lettered inspired cakes are fresh, fun, and perfect for a a more whimsical wedding style. Each part of these cakes are hand-painted to perfection and make for a stylish, modern storybook. Each word can embody the relationship of you and your fiance or can answer a very important question, such as what marriage or love means to the two of you. Either way, these hand lettered cakes are too cute.
The Pattern Inspired Cakes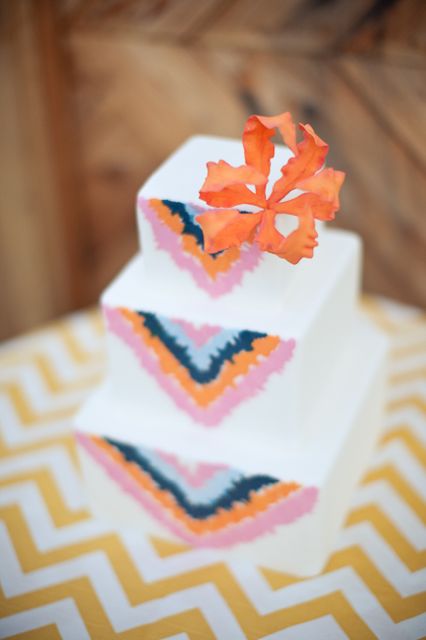 credits: Gabriel Ryan Photographers, My Sweet and Saucy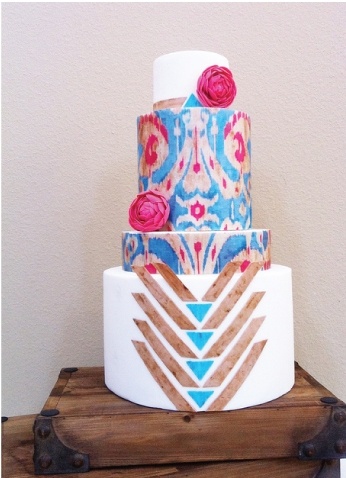 credits: Hey There, Cupcake!
Obsessed with chevron or ikat? Then there is a hand-painted cake for you too! Embodying your favorite print in a uniquely styled cake is a fun way to add a bit of your personality to the cake and give it a modern edge. We are totally smitten with the ikat inspired cake! And the unique take on chevron has a fun boho feel!
The Ombre Inspired Cake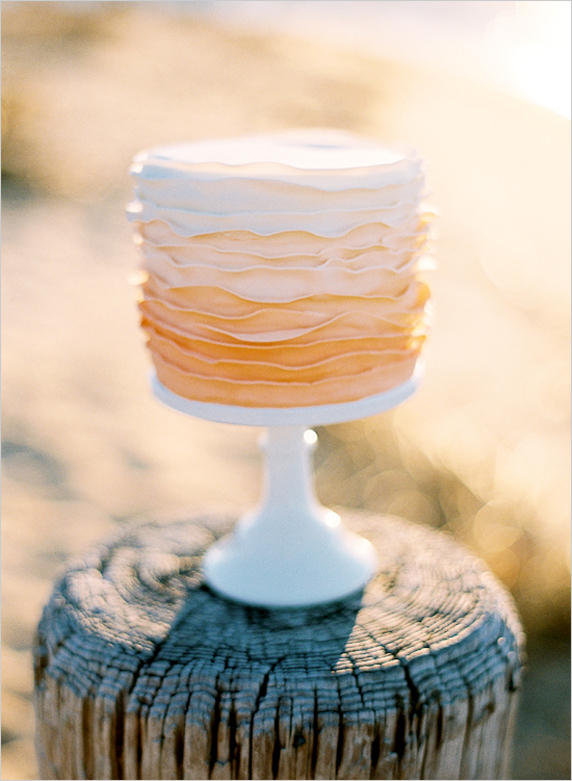 credits: Eat Cake!, White Loft Studio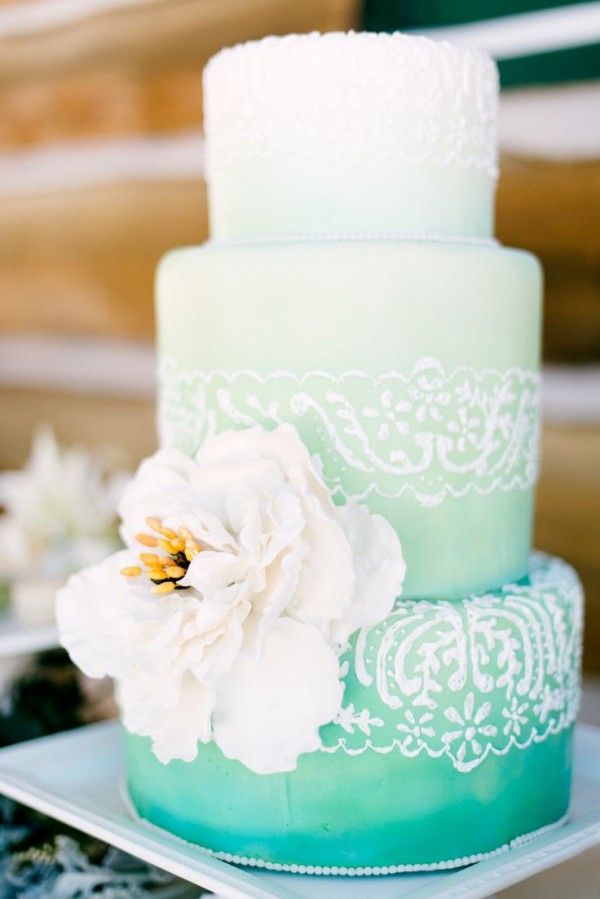 credits: O'Malley Photographers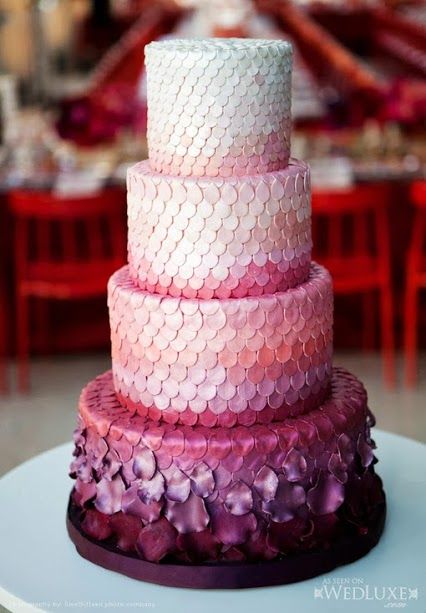 credit: 5ive15ifteen Photo Company
Ombre is topping the wedding trend charts and has been for a while now, and frankly we are glad to see it sticking around on the wedding scene. Combined with the hand-painted wedding cake trend, this look is to die for! We love each unique way you can incorporate ombre with a hand-painted cake — delicate ruffles, detailed petals, dainty fondant, and more!
The Mixed Media Inspired Cake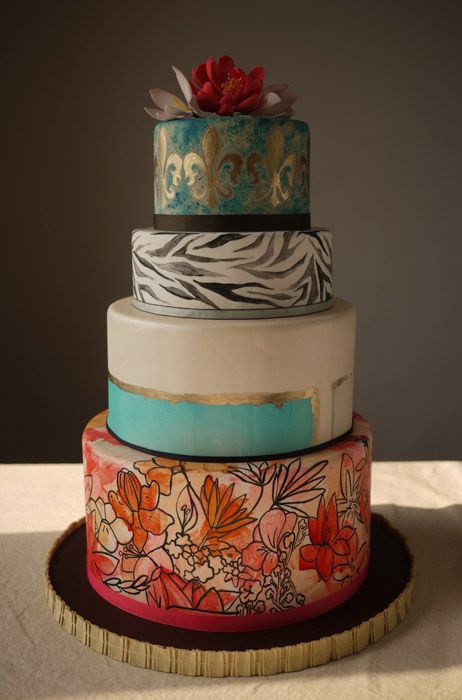 credits: Charm City Cakes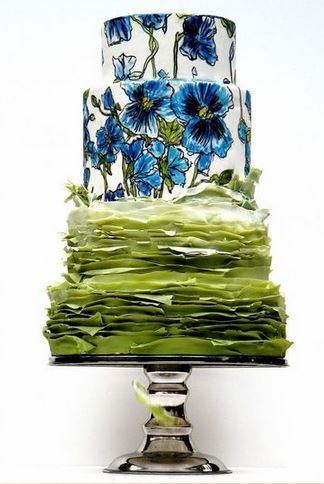 credits: Maggie Austin Cake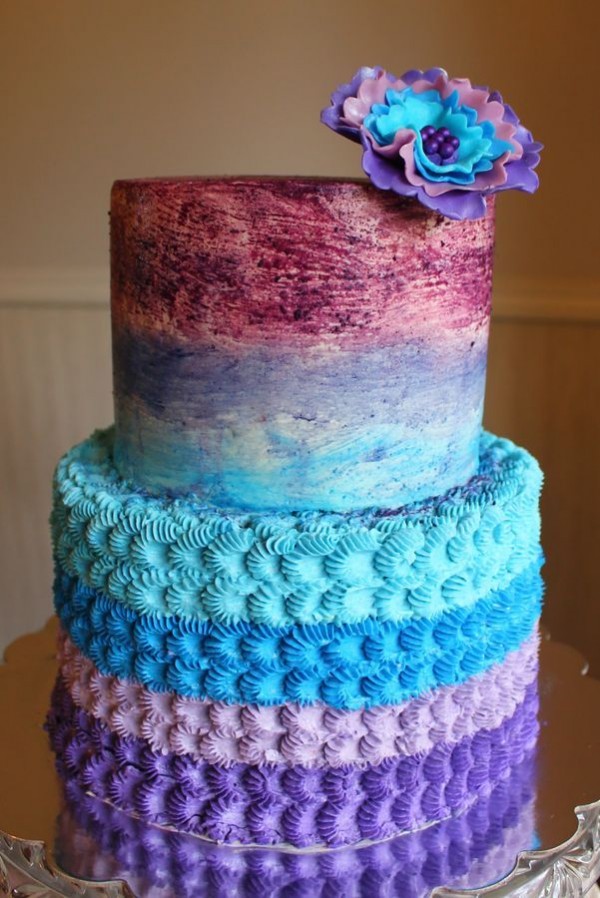 credits: Iced and Sliced
In love with more than one look? Looking to show off more than one side of your personality? Then a mixed media inspired wedding cake is calling your name. Combine unique layers with hand-painting techniques and you have a cake match made in wedding heaven. We love how fun, yet oh so gorgeous these cakes are! What do you think? Is this look perfect for your wedding day style?
The Painting Inspired Cake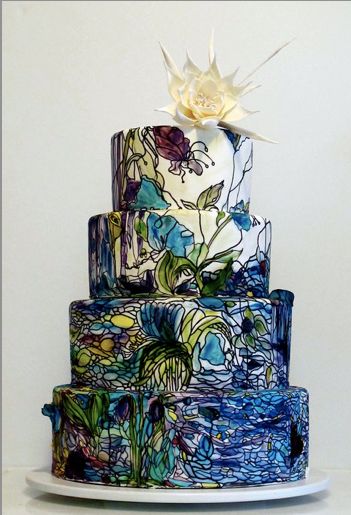 credits: Maggie Austin Cake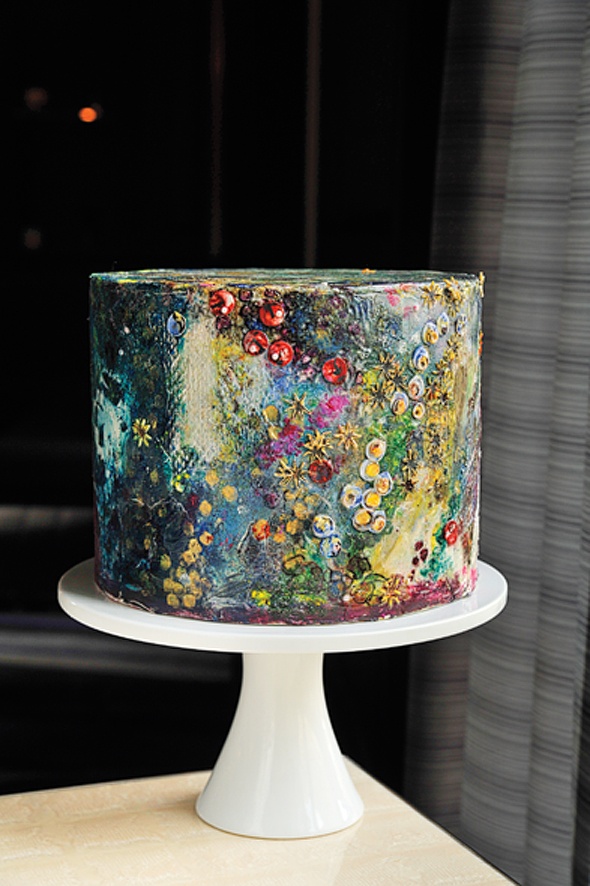 credits: Maggie Austin Cake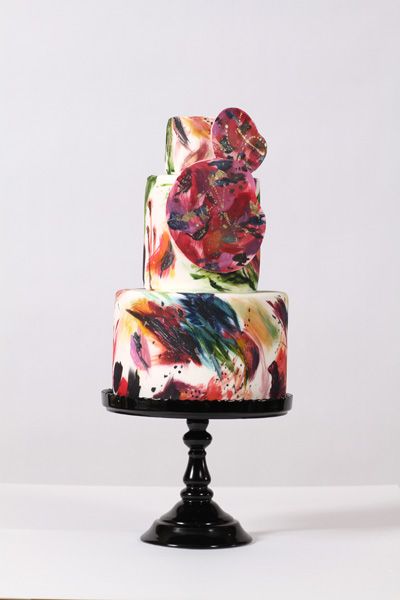 credits: Nadia and Co.
As art lovers, we are totally swooning over these art inspired wedding cakes. Taken for famous art works or entirely brand new creations, these painting-inspired wedding cakes are fabulous. Can't you just imagine of these gorgeous cakes at a art-deco or modern art inspired Newport wedding? The last cake had us from first brush stroke!
The Floral Inspired Cake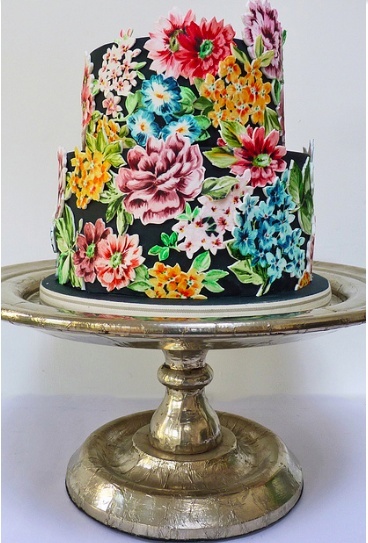 credits: Nevie-Pie Cakes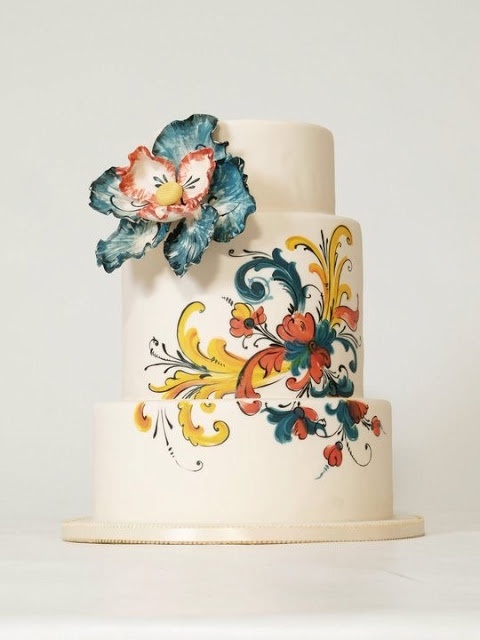 credits: CakeCentral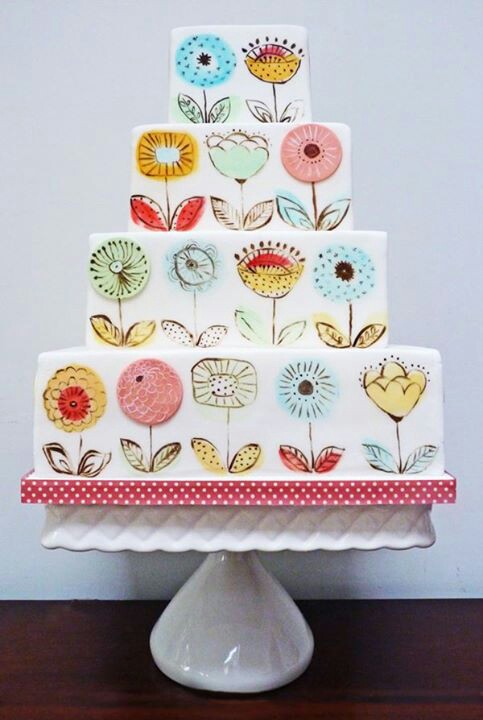 credits: Nevie-Pie Cakes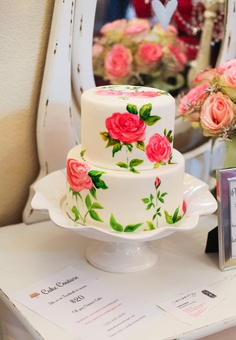 credits: CakeCentral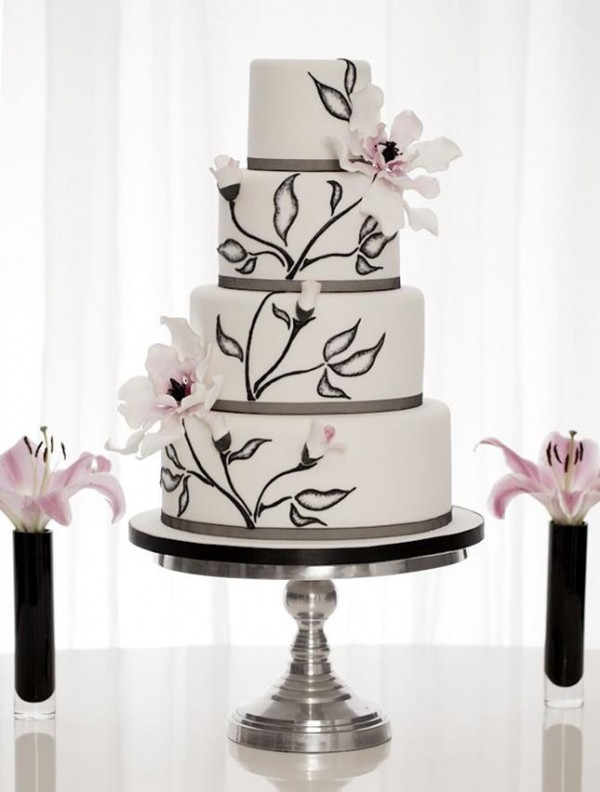 credits: Rachelle's Beautiful Bespoke Cakes
By far the most popular of the hand-painted wedding cakes are those that go with floral looks. Typically they are reminiscent of watercolor paintings, but more and more brides are branching out and featuring cakes with unique florals. With a floral inspired, hand-painted wedding cake, you can't go wrong. Before these cakes were limited to spring time, feminine weddings, but with these new styles they can literally be incorporated into any look.
Are you in love yet? Because we've fallen in love all over again and we didn't even cover all the unique ways hand-painting can be used! Like we said before, anything you can dream of for your wedding day can be perfected with a lovely hand-painting technique! So, get to dreaming, your perfect wedding cake is waiting for you and your wedding day!