Meet our writer, Samantha!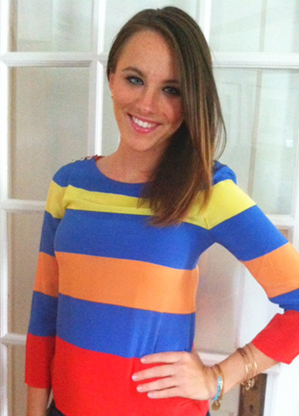 We would like to introduce to you our new writer, Samantha. Over the past two months, Samantha has been writing and editing our daily posts and we would like to formally introduce her! Born and raised in Rhode Island, Samantha spent many summers in Newport. After graduating from the Fashion Institute of Design and Merchandising in Los Angeles and working as a bridal gown specialist for J. Crew she knew weddings were her calling. Having a passion for writing and blogging just so happened to work in our favor. Samantha will be out and about in Newport attending events on behalf of NWGlam, so if you spot her don't hesitate to introduce yourself!
We had her sit down and answer some questions for you all on everything to do with Newport weddings from her favorite trends to her favorite photo opp in Newport!
NWG: What is your favorite wedding trend this season?
Samantha: Being from Rhode Island, I love anything nautical! Ask anyone that knows me! But besides the obvious, I am really loving the use of neutral colors. I love pale pinks, champagne, light greys and ivory mixed all together. I think it gives the day an overall soft and romantic feel. I especially love neutral flowers! I also can't get enough of the DIY trend! Pinterest has become my best friend!
NWG: What excites you about weddings?
Samantha: Can I say everything? No, I'm just kidding… I remember being a junior bridesmaid in my aunt's wedding when I was in fifth grade (which just so happened to be in Newport) and loving every second of it! I think thats when it all started. But, I just love the way it all comes together, every single detail.
NWG: What do you love about Newport weddings?
Samantha: Newport is such a beautiful city. From the beaches to the mansions, whats not to love? I've always imagined getting married by the water, so to me its a perfect location to say I Do!
NWG: What screams quintessential Newport wedding to you?
Samantha: Hmm…each wedding that I have seen in Newport has been so different, but I would say taking pictures by one of the lighthouses. They are fun photographs to have, and an obvious reminder of your special location.
NWG: What role do you play at Newport Wedding Glam?
Samantha: Well, I write all of the daily posts you see here on the blog! I constantly research new wedding trends, vendors, locations all around Newport, etc. If you are a vendor interested in being featured on NWGlam, I can help with that as well (just let me know)! You will also see me out and about, around Newport and Southern Rhode Island representing Newport Wedding Glam, so like we said before, if you see me don't hesitate to stop and say hi! (:
Have any questions or comments for Samantha? Send her an email at samantha@nwglam.com